Posted on
Stepping down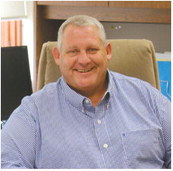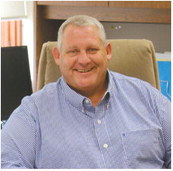 Rib Lake administrator Rick Cardey announces plans to retire in October
Whoever the Rib Lake School Board finds to replace administrator Rick Cardey will have some big shoes to fill.
At last week's school board meeting, Cardey announced plans to step down as administrator and retire in October. The exact date of the retirement will depend on the district finding a suitable replacement to take over for him.
Cardey has been with the Rib Lake School District since 1995 serving in a variety of positions. He became administrator in 2018 taking over from Lori Manion and has helped the district advance and prepare for the future.
In his retirement letter, Cardey cited the growing pressures of the jobs with the changes in the past several months.
His retirement letter to the board is as follows: August 13, 2020 Dear Rib Lake School District Board Members: After much thought and consideration, I am requesting to retire in October 2020. The exact date can be determined after a replacement is found and in place.
For the last 25+ years, I have been blessed to work in a school district like Rib Lake. I have always had a great appreciation for my collaborative relationship with board members, staff, and the community on creating the best possible learning environment and opportunities for students. Most of all, I will miss the students, who have made coming to work everyday a pleasure. The district has students who reflect positively on the respect, hard work, and small town values of their parents.
I am proud of what we have done for the Rib Lake School District over the last quarter century, as we have always strived to be student focused in our decision making. The district has always focused on high quality instruction and student connections, which has resulted in a national Blue Ribbon School Award and School of Recognition Awards for high achievement. The citizen and board support for our schools has resulted in good facilities and maintenance programs that will serve the district well for years to come. The opportunities for students to participate in academies, dual credit programs, and personalization of learning have all led to students who leave Rib Lake with a head start after graduation. Technology replacement has been placed on planned cycles, which should ensure that our students have good equipment and our one-to-one commitment remains for years to come. I could list so many things, but I want to be brief.
I think it was known that I was considering retiring last spring, but did not feel the timing was right due to all the changes and uncertainty surrounding schools. Anyone who knows me well, knows that my mind is constantly focused on our school system and doing what I think will help make the district most successful. I think this approach has served me well in the 27 years I have been a school administrator. However, the constant changes, myriad of issues, and concern for student success has put my mind to work day and night continuously for the past five months. This is not sustainable or healthy for either the school district or myself.
School and student events have been my hobby for the last 33 years. It might be time to find some other hobbies in retirement. Thanks again for the opportunity to be part of such a great school district. It has been a privilege to work for you.
Sincerely, Rick Cardey History in the district
Cardey has been an anchor at Rib Lake School District since coming there in 1995.
From 1995 to 1997 he was a counselor. From 1997 to 2006 he was the PK-8 principal. From 2006 to 2018 he was the 6-12 grade principal and in 2013 took on the additional duties of the buildings and grounds coordinator.
In addition, Cardey's duties have included curriculum coordination, ESEA coordination, grant writing and supervision, adult education coordination and coaching.
Prior to coming to Rib Lake, Cardey worked at the Highland School District as the PK-12 principal and 9-12 counselor from 1991 to 1995 having started there in 1990 as a Title I teacher/coordinator. Prior to that he was a K-5 special education teacher at Boscobel School District.
Cardey earned his Master of Science in K-12 education leadership from Winona State University in Minnesota in 1991 and prior to that earned his bachelors in K-12 health and physical education from UW-Platteville. He holds Wisconsin certifications as a superintendent, PK12 principal, counselor, physical education teacher and health education teacher.
During his tenure at Rib Lake schools Cardey has received honors on behalf of the district and was named a representative to the Wisconsin Educational Research Council by the Wisconsin Department of Public Instruction. He has also had leadership roles in writing grants with other districts that benefitted Rib Lake school programming and resources. These include a physical education performance grant with Edgar School District; a 21st Century Community Learning Center grant with Gilman School District; multiple financial literacy grants; and alcohol and other drug prevention grants.
"S chool and student events have been my hobby for the last 33 years. It might be time to find some other hobbies in retirement.."
—Rick Cardey, Rib Lake administrator