Posted on
Pinter's sees new look and continued growth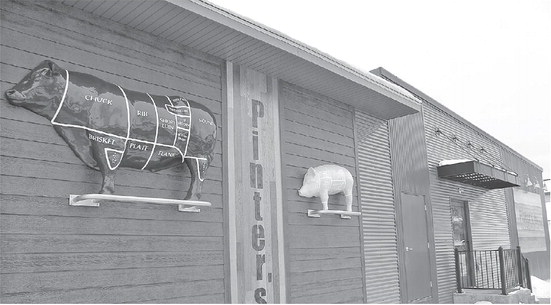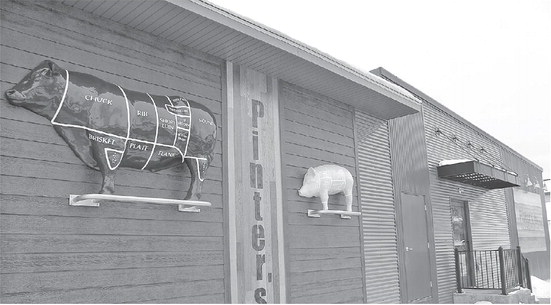 Pinter's Packing Plant in Dorchester offers full service meat-processing
John and Janet Pinter founded Pinter's Packing Plant over 60 years ago.
The couple began the business in 1957 selling groceries and meat in what was once called the Clover Farm Store. They began making meat in the basement of the store, but their sausage soon became popular and the basement was no longer sufficient.
They then purchased and converted an old cheese factory in 1958 but the need for another expansion came 10 years later. Finally, in 1970, a brand new plant was built and it is still the home of Pinter's Packing Plant today.
Since then, they have become a staple in the Dorchester community and a name that has spread far beyond their location.
Thanks to family recipes, Pinter's has become known for their great tasting sausage; however, Pinter's Packing also offers processing of any wild game from bear all the way to moose. Custom butchering is another thing that Pinter's Packing offers. Those who are interested should contact them soon as this yearround service books quickly.
The last 10 years have brought a few changes, according to owner Al Pinter.
"Our volume has gotten larger and we have more employees now then we used to," he said, noting that they have anywhere from 10 to 15 employees currently.
He also mentioned that they have added new products to their arsenal over the last 10 years.
Besides being sold in their store, customers can find Pinter's products at other establishments such as the Dorchester Cenex, Abby County Market and many others.
Pinter's Packing used to accept deer hides in order to make gloves for the harsh winters. However, they have stopped doing so in recent years.
"I don't do those anymore, the market for deer skins isn't there anymore," explained Pinter. He also said that a lack of time was a deciding factor in stopping the project.
Pinter's son, Alex, has also begun to take on more of a leadership role in preparation for a future of running the company.
Alex has been working in the family business for years and Al has great confi dence that he will keep the Pinter name alive in the future.
However, these are not the only changes to take place at Pinter's in the last 10 years. They have remodeled part of the inside of their store and have completely redone the outside of the building, which had not changed since 1970. The remodeling done in 2019, brings a modern, updated look to the outside of the building.
Three years ago, the inside of the building was remodeled as well. More specifically, the walk-in area was redone.
A wooden theme serves both the outside and inside of the building and gives off very modern and inviting vibes.
As far as the butchering industry is concerned, Al said that not much has changed except for the regulations that they must abide by.
"Regulations are always tougher, but you work with it," stated Al.
When asked why people should do business with Pinter's Packing, Al said, "I think as a packing plant, we do one of the better jobs in the state."
He also stated that their great products and customer service are reasons people should consider Pinter's Packing.
"I was one of the original starters of the company," said Al when asked what makes him proud to be a part of the family business.
"I've been here since I was 19, so I'd like to see it stay because it's been in the family," he continued.
Though the company has changed over the years, Al said they aren't looking to make further changes at this time.
"Our volume is up to its capacity right now; it's just a matter of using what we have here right now," said Al.
Looking ahead to the next decade, Al said that he does not foresee many major changes.
Besides a possible ownership change from father to son, the Pinters intend to keep their steady work going.
If you are looking for a word that perfectly describes Pinter's Packing, look no further than "stability," and expect to see more of the same in the coming years.