Posted on
New 4-H educator looks to 'Make the best better'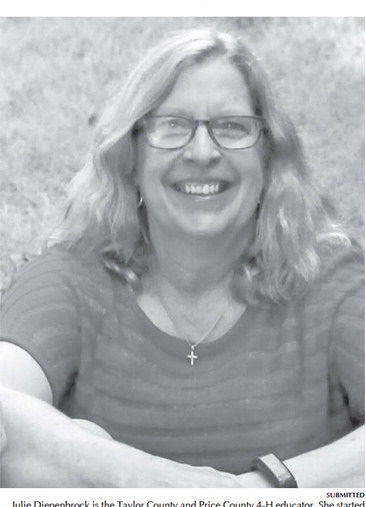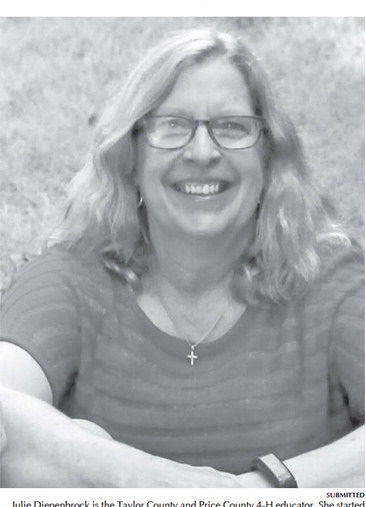 4-H educator looks forward to working with area young people, volunteers
Julie Diepenbrock started July 7 as the Taylor County and Price County 4-H educator.
She is starting in a challenging time for both the 4-H program and for all youth. Currently 4-H is limited in how they can meet due to COVID-19 restrictions. "We have a five-page report that we have to fill out to have an in-person meeting right now," she said.
Fortunately a lot of the programming has moved online, which helped but she said it is not the same as in-person interaction. She is hopeful that the state will open things more in the coming weeks and months.
Diepenbrock noted that 4-H programs across the country are facing challenges due to the youth today having so many more options, than in previous generations. She said 4-H continues to play an important role in addressing the life skills students and youth need to excel.
Diepenbrock said she looks to have 4-H in the area enter into partnerships with other youth-oriented activities and the schools to be more effective in reaching youth. She said there is room to build programs that expose youth to 4-H in different ways.
"If anything good has come from COVID- 19 part of it is helping see there are different ways to do this and different ways to reach youth," Diepenbrock said.
She goes back to the 4-H motto "To make the best better," as a way to look at the future of the organization in the area. Diepenbrock said she has been impressed with the local 4-H programs. She said that compared to the communities she previously served, the youth participation in Taylor County has been 30% to 40% higher.
"I am very impressed with the amount of participation and the leaders," she said.
Diepenbrock comes from a strong 4-H background. Her mother was a longtime 4-Her and leader. Diepenbrock was a nine-year 4-H member in Oklahoma. Her first job after college was working for K-State Research & Extension in Meade Count, Kan. with both 4-H and Family and Consumer Sciences (FCS) for three and a half years. Later she was a 4-H leader while both of her daughters were 4-Hers for 11 years in Kansas. She also served on the McPherson County Extension Executive Board for several years.
"I know Extension and love 4-H," Diepenbrock said.
Most of her recent job experience was teaching FCS at McPherson High School in McPherson, Kan., then most recently, teaching FCS at Moundridge Middle/ High School in Moundridge, Kan. and providing "Counselor Time" for K-3 at Moundridge Elementary. She also spent three and half years as executive director of Big Brothers Big Sisters of McPherson County. She has also been a licensed marriage and family therapist in Kansas for over 20 years.
"I have worked with a wide age range of youth in various settings. It is my heart's desire to help young people develop their abilities, talents and gifts to become well-rounded individuals and eventually contributing members of their community through their jobs and community service," she said.
Throughout her career, Diepenbrock has focused on helping young people to learn. "We are helping them to develop the skills they need to succeed," she said using the phrase "helping them do life" in explaining what 4-H brings to young people.
With a long career in Kansas, the decision to move north to Wisconsin was a major one for Diepenbrock and it had a lot to do with family.
She and her husband, Larry, a recently retired teacher and coach, have two daughters. Their older daughter is a resident at Wesley Children's Hospital in Wichita, Kan. Their younger daughter works at the Wisconsin State Crime Lab in Wausau as a controlled substances analyst and lives in Merrill.
"Our many trips to visit her have sparked a desire to move to Wisconsin. North Central Wisconsin is where my husband and I would like to spend the next several years working, serving, developing relationships, and contributing to the area in as many positive ways as we can," she said.
The plan to move to Wisconsin was set before she was hired to be the 4-H educator.
"My husband is a longtime Packers fan — literally since Super Bowl I," she said. After making trips to Wisconsin to see their daughter, and seeing the beauty of the area, they made the leap a year ago and purchased 80 acres in the area. With her husband's retirement from teaching they decided it would be a great opportunity to move here.
She said this recognizing that she moved here in July rather than November. She said she hopes that come winter she will have similar feelings about the decision to move north.