Posted on
Duellman keeps family tradition going strong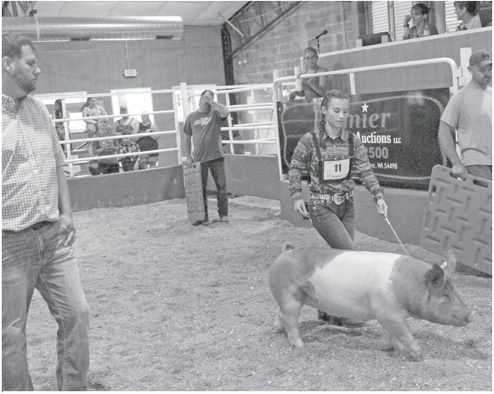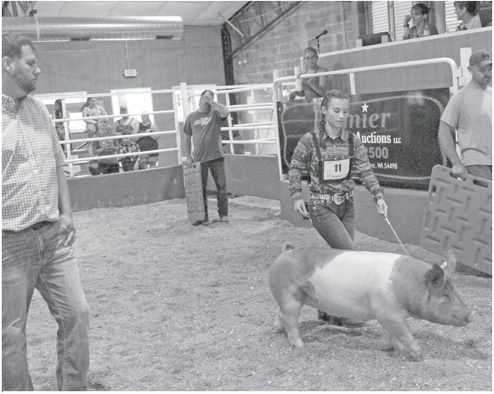 Tychelle Duellman shows pigs along with her brothers Trevin and Troy
For Tychelle Duellman, 16, showing animals is a family tradition.
Duellman is getting ready to enter her junior year at Gilman High School and this is her ninth year showing Hampshire and Yorkshire swine. In addition to showing at the Taylor County Fair and the Market Animal Show and Sale (MASS) program, last year she showed pigs at the Wisconsin State Fair.
"My mom showed when she was young and she just kind of told us about it," Duellman said. Duellman's grandmother, Dorothy Halida is the longtime leader of the Diamond Lakers 4-H Club in Lublin. Duellman's brothers, Trevin and Troy, also show pigs as part of MASS.
Duellman said the experience of showing at state fair was interesting, especially with the number of questions visitors would ask. She noted that many people don't have any idea about livestock or where their food comes from. She said part of showing animals is being able to answer questions.
While disappointed to not have a fair this year, Duellman was happy that the MASS program was still able to take place as a way to show off the hard work that she and her other competitors put into raising and working with their animals.
Since early spring, Duellman has been working with her pigs, walking with them, monitoring their feed, and taking care of their needs. They get the pigs when they are at about 60 pounds and work to get them to market size of about 280 pounds by the time of the show.
"We walk them two times a day, morning and night," Duellman said, noting the exercise is important to help the animals develop. "We spend a good hour walking them," Duellman said. After which they have to wash them. Prior to the show they also have to start clipping them to make sure they are show ready.
She said even when the pigs are little, it is important to spend time with them to let them get used to her being around. Duellman explains that she gives her pigs strawberry marshmallows as treats when she is working with them. "They would eat the whole bag if we let them," Duellman said.
Working with the animals is an essential part of being able to show them. Duellman explained that each animal has different attitudes and can be unruly to work with. "After a while they get to be pretty tame," she said.
With the many hours she puts into working with the pigs, she said it is easy to become attached to the animals, which makes sending them to be processed after the show somewhat sad. "After nine years it gets easier," she said, noting that it is still sad to watch the animals get taken for processing. She said she imagines it is harder for the people with beef animals because they work with them so much longer.
In addition to showing animals, Duellman serves as a junior representative for MASS. In this position she is there is answer questions for younger children and is there to show them what to do.
Duellman was grateful to Premier Livestock and Auctions for allowing the MASS group to hold the show at their location this year. She also expressed gratitude for all the bidders who came out an bought animals during the auction.
"Everybody has been working hard," she said, noting it was nice to see that hard work pay off.