Posted on
Alleys are the talk of the town in Gilman Village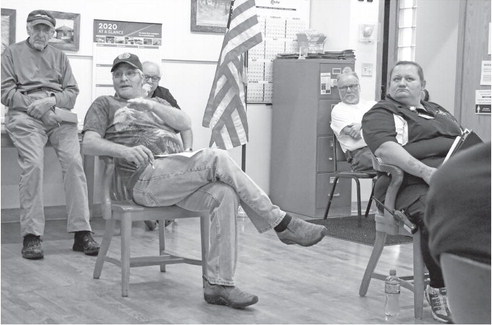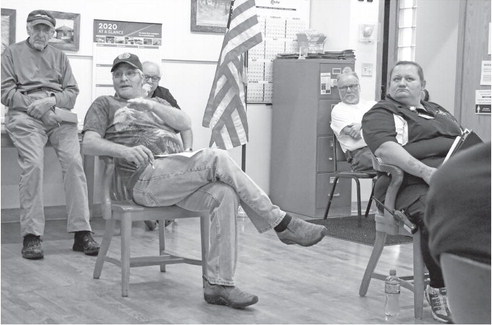 It was all about the alleys in Gilman, during a regular village board meeting June 10, as trustees talked about joining in agreements to split paving costs for proposed projects on Hendricks and Drangle alleys. To begin, a quote was received from American Asphalt at $14,915, while Jensen Asphalt quoted $16,445, to do "a little more" paving on Hendricks, which is not on village property.
"If the village can pay $10,000…me and the fire department will split the remaining $6,400," said resident Jim Hendricks, recommending the village go with the Jensen quote.
Greg Steinbach, trustee, asked how much the cost has to be before the project is bid out. Clerk Candice Grunseth says she believes the amount is officially set at $10,000, but as a courtesy, they normally bid out at $5,000.
"I know our money is spent for this year," said Steinbach. "I don't know if we could dip into next year's or not?"
Grunseth says the funds would come out of restricted.
"This alley's always been like a thoroughfare," said Hendricks. "What for, I have no clue."
"I realize it's an advantage for the village, but it's also an advantage for you guys, too," said village president Jane DeStaercke.
Steinbach says he wants to certainly help out the fire department, but is concerned that if the village partners to pave one alley, they may have requests to do them all. Hendricks said if that happens, it may be others are willing to split the costs to get projects completed.
Giving his input, public works director Rick Johnson says they have to watch what mix the companies are using, as that effects the paving thickness. Paving could be a 3-inch thickness or the standard 2 inches.
"You gotta have apples-to-apples, whether it's American or Jensen," said Johnson.
Henricks said he would rather see 3 inches, as did fire department representative Fred Romig, who admitted he wasn't completely sure if the thickness made a difference.
"I guess I'm not a true blacktop person," said Romig.
All parties present agreed to investigate their options and put out the project for bids.
Moving to the next alleyway, Bruce Drangle asked that the village partner to pave a portion of Drangle Alley, going past the CenturyLink service building. Drangle says he talked to a serviceman who happened to be at the building and agreed to pass the information on to his superiors, to see if there could be a three-way split of paving costs between him, CenturyLink and the village.
"So, they're interested, but I haven't heard anything back from them," said Drangle.
Drangle said it is hard to plow that alley during the winter, and with all the ruts, snow stays on the road, which makes it very icy.
"It would be helpful if they'd do part of it," said Drangle, adding he wants to keep the alley maintained. "We wouldn't be able to get out."
DeStaercke said the village can't move on the paving until they know what CenturyLink is willing to do and said the village will contact them.
"We'll do what we can do," said DeStaercke.
Dealing indirectly with roads, Gilman police chief Tom Tallier reported that he purchased a speed display radar unit. Once the unit was put together, Tallier discovered the village can't mount the radar on a state highway traffic sign, as they need permits and would have to jump through hoops to get permission, so, instead, Tallier decided to order a trailer.
"Now, we're going to have a mobile speed trailer unit that we'll be able to put other places, instead of just being fixed on a sign," said Tallier.
Altogether, the cost for the radar and trailer was $4,000. "It was requested by citizens," said Johnson of the reason the village purchased the radar.
The larger unit should be fully operational over the summer months.
"It's a very good deterrent," Tallier said, "of when you just naturally see those lights flash, people hit their brakes."
Johnson also reported that Freeman Building can construct the east door steps of the village hall, for $1,650, with a 4x4 platform and 7x11 steps. The steps would be pre-dipped in zinc, then powder coated with paint finish.
"He says they'll last pretty much forever, once he's done with them," said Johnson.
Although she had requested one, Grunseth says she never got a proposal from Scott Copenhaver for redoing the stairs.
Members agreed they have to have estimates in writing, before deciding which way to go with the stairs.
There will be no Gilman Summer Activities, per the notification of Gilman School superintendent Wally Leipart, and no youth leagues are to organize in the park fields, although there is a men's softball league that meets Monday nights, and the Community Betterment Association (CBA) does have Music in the Park scheduled for Saturday, July 18.
Grunseth also said she needed direction on the village building, as it has been closed to the public almost since the COVID-19 pandemic began. Grunseth asked if the board wanted to open the office, keep it closed or have it open by appointment only.
"You did make a good point, that if you get sick, we have a problem," said trustee Eileen Grunseth.
Members agreed to leave the office closed for now.
"I think we would have to unicorporate, if Candice couldn't take care of us," laughed DeStaercke.