Posted on
Stella: A Soldier's Story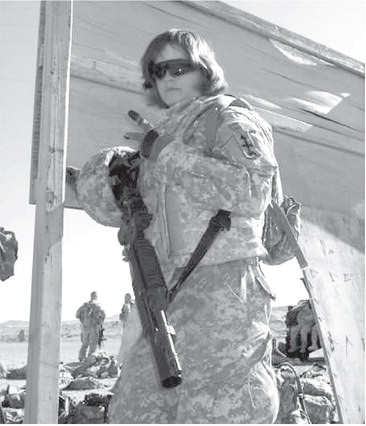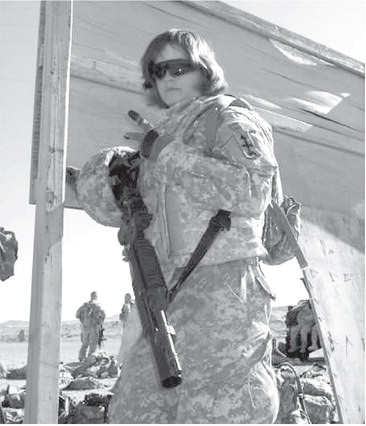 Note: The following story was submitted to
The Star News by Tim Stelzel concerning his daughter who is an Iraqi War veteran.
It has been said that sharing a story can relieve a person of half the burden that they bear. I hope that's true.
It has also been said that winners and losers both get knocked down in life. The only difference is that the winners struggle back to their feet and continue the fight. This is most definitely true.
This story is dedicated to our daughter, Sergeant Stella, an Iraqi War Veteran who served in Iraq from 2009 to 2010, as part of the Army National Guard 32nd Red Arrow Brigade out of Stevens Point and Wausau. Stella is a nickname given to her by her fellow troops during her deployment.
In 2007, at the age of seventeen, our daughter graduated at mid semester from Wausau East and joined the Guard. Stella was in boot camp when her classmates graduated from high school. Our family attended her graduation anyway, just to hear her name read and to cheer. We were dismayed when, not only was her name left out, but, along with six other military bound high school graduates, no recognition was given for their decision to serve their country. My wife met with the principal, Dr. Peck, the following day, and he was genuinely apologetic for this oversight and promised it would never happen again.
Stella went on to serve her country honorably for 6 years, and returned safely; but ultimately, at great personal sacrifice.
There are many veterans, service members, and families who have made much greater sacrifices for this country than our daughter and our family. Our thoughts, prayers and thankfulness are with all of them.
There are also many stories more unremarkable than Stella's story…. but those stories are not her story. This is Stella's story, a soldier's story.
Stella comes from a long line of individuals who served their country. Her great grandfather, AFF Jensen of Dorchester served during the Civil War with the famed Iron Brigade as a gun carrying Chaplain and fought at Bull Run, Antietam, Fredericksburg, Gettysburg, and the Wilderness Campaign from 1861 to 1865 under Abraham Lincoln. He enlisted twice and was wounded twice. The second time he was wounded he shook hands with President Abraham Lincoln on May 2, 1864 while he lay in a hospital in Washington, DC, where the President happened to be visiting. Our family is grateful he survived.
Stella's grandfather, a Dassow from Medford and eight of her great uncles also served in various branches of the military, in wars that included WWII, Korea and Vietnam, all of whom survived. One great uncle, Frank, lost a leg to a landmine storming the beaches of Normandy and is still a survivor at the age of 101.
Her uncle Elliott, my brother, served honorably during Desert Storm in the Army, although he was not deployed overseas like our close family friend Johnny. They both survived as well.
I tried to serve my country, only to end up serving myself a lot of alcohol while in the Air Force. Ironically, I probably would have been voted most likely by my family not to survive… but I did.
Fortuitously, every enlisted member of my family survived their war experience-- including my daughter—until now. Safe back from overseas and soundly back at home, she is facing yet another test of survival.
In July of 2019, our daughter, now a veteran, discovered that she has pancreatic cancer. We were devastated and also baffled as to how someone who is only 31 years old could acquire this serious type of cancer, which predominately affects the elderly. The answer became clear when she told us that she had a memorandum from the government stating that her cancer treatment would be completely covered by the VA due to her service in a foreign theater from 2009 to 2010. Tears of deep sorrow turned bitter as I suddenly thought of our Vietnam veterans and the legacy of death and disease left by Agent Orange.
As Stella immediately started treatment— which the VA has spared no expense— I went on the internet to see if a similar "agent" may have something— anything—to do with my daughter's cancer.
After a quick search, I was stunned to find on a VA website that the rate of pancreatic and liver cancer had increased 96% in veterans and service members who had been exposed to open burn pits while serving in war since as early as 1990. These open burn pits, which burned 24 hours a day, often used a fire accelerant known as JP-8 to burn asbestos, chemicals, medical and human waste, ordinance, and all the other waste generated during war. I also read that open pits are still being used as of this publication, while incinerators that are deemed inefficient, sit idly by.
So far, 195,237 veterans and current service members have already registered on a site called "The Airborne Hazards and Open Pit Registry." (www. publichealth.va.gov) My daughter is one of those affected veterans.
Although paying for Stella's cancer treatment, the VA denies a direct connection between the open burn pits and her illness. On their website, the VA attests that "at this time, research does not show evidence of long-term health problems from exposure to burn pits," and that "the VA continues to study the health of deployed veterans."
This position rings hollow, and sounds suspiciously like the position that the government took with Agent Orange, a defoliant used in Vietnam to clear undergrowth. It ended badly for many of those affected veterans who were still dying from various forms of cancer decades after the Vietnam War was over.
Our daughter would recount to us later that a dump burned continuously outside the prison area she was assigned to and that the troops referred to the soot that got on everything as 'Iraqi Talcum Powder.' The troops would say if the war doesn't kill them, this stuff would.
We informed the rest of our family of the situation in person, but had to phone her brother, an Annapolis graduate and now naval officer, to tell him of his sister's condition. He and his wife drove 22 hours one way to sit with her quietly for one afternoon while she recovered from her latest round of chemo, and then had to drive back to his duty station.
I will never forget the day Stella's brother graduated from the Naval Academy at Annapolis. That day, he also shook the hand of the President of the United States of America just like his great-grandfather before him. When Stella's brother arrived to the party, everyone shouted, "Speech, Speech!" Our son, who is a bit modest, thanked all of us for being there and humbly announced that he hadn't done anything yet. He said that his sister, Stella, is the real hero today. We all looked down and the room fell silent, because indeed he was right. Stella was the only one missing. Stella was in a foreign land, in a hostile environment, guarding prisoners who hated Americans and females with equal enthusiasm That night, after the party, it was almost impossible to reflect on the wonderful day we had all just shared, because I was next to my daughter in the dark, in a fox hole, in the desert, wearing goggles in a sandstorm, with my arm around her shoulder In the spring of 2009, as well as missing her older brother's Annapolis graduation, Stella would miss her younger sister's high school graduation. The only consolation was that, at the end of the ceremony, a special tribute was paid to graduates who were currently serving their country, just as the principal had promised. All their names were read. We were grateful.
That summer, during her deployment to Iraq, Stella called. We hadn't heard anything from her for six months and were happy to hear her voice, at first.
She said she couldn't tell who the enemy was anymore. She was crying. She also admitted she was assaulting inanimate objects, and that the military offered her courses and counseling. The counselor asked Stella what would make her feel better. Stella said she would like a really nice car, like the Bentley she saw the day before carrying diplomats around camp. The counselor suggested that instead of buying a car, and wrecking that too, that perhaps, she might try to help something else out that may hurt worse than she was hurting, thus, taking the focus off her problem. Stella asked hopefully, "Do you mean like a dog or something?" No, her counselor replied. "Start out with a plant and see how that goes for a year." Albeit seemingly inadequate advice; Stella was able to finish her commitment to serve her country.
I could not help Stella that day on the phone. While Stella continued her service, I continued my drinking—and began to serve myself more and more alcohol to dowse my angst. Drinking alone and often was like committing temporary suicide to escape my thoughts and fears on a daily basis. It was, therefore, no surprise to me that my "check liver light" started blinking—setting things out of control. Sometimes it is not what you are consuming, but rather what is consuming you.
When our daughter returned from Iraq, during the Spring of 2010, the quick smile she was known for had disappeared. She was still angry and needed to go to some more VA offered counseling and classes. I still could not help her.
One day she came home, finally, with a triumphant look on her face…and a dog. The dog was a rescue from an animal shelter. He was a bag of bones and had severe kennel cough. This dog had also clearly been beaten and was very timid. I remembered the story our daughter told us about helping something that is hurting worse than you and I thought to myself, "What happened to you over there?"
See SOLDIER page 23 I asked our daughter if she had named the animal. She said, "Bentley."
Stella, my wife Wendy, and I for that matter, were shocked that I stayed sober to help during the countless hours spent bringing this ragged dog back to health. I was worried they wouldn't let me help if I was drinking and out of control.
I was also surprised that Stella agreed to "rent" her dog to me when she left for college three months later. She needed the money. Being non-pet owners, we reluctantly said, "yes," and, instead of this dog helping my daughter, I was about to find out that this dog was really meant to help me.
I walked this dog, who both my wife and I fell in love with, like religion, multiple times every day from that day forward. Since then, and now, nearly a decade later, I have not felt the need to take a drink. I may have been the one holding the leash, but my self-named "guide dog for the spiritually blind" was actually the one pulling me out of the abyss of alcoholism along with another support group.
That first winter Stella was home from Iraq, I convinced her to deer hunt with her uncles, her aunt and my friends. We weren't seeing any deer so we did a deer drive. Stella, my buddy Geoff, and I were drivers. I kept Stella between me and the road so she wouldn't get lost in the cedar swamp we were walking through. Half way through the swamp Geoff's phone rang. I could easily hear him talking to my daughter. She was lost and her phone was almost dead. Geoff told her to sing out as loud as she can. I heard her yell, and yelled back. Geoff and I made our way in her direction while a light rain began to fall. As we got closer, we could see that Stella was knee deep in water. Her head was down and her shoulders were shaking uncontrollably.
I marched right out into that water, and, as I got closer, I could see she was crying. Without lifting her head, she said in a tear-filled voice, "I'm a soldier, and soldiers aren't supposed to cry. Soldiers aren't supposed to get lost. I don't have my raingear, my boots are wet, and I forgot to bring my compass."
I knew something was desperately wrong. As I had once longed to be with her in her foxhole, I was now with her in a swamp hole, hugging her close and telling her over and over, "It's ok, we've got you now." The tears flowed unashamedly. We hadn't hugged like that since she was a little girl and I didn't want to let go of her. Rain drops rapping my hat and her pained crying were the only sounds I could hear. The smell of cedar was strong in the air, and this is a moment frozen in my memory.
When I finally gathered myself, I whispered into her ear that it is okay to be lost. I then whispered that war is hell…even with a compass. She looked at me and then hugged me even harder. I whispered again into her ear that it was a good thing she has her dog to help her find her way. She whispered back into my ear that she didn't get the dog to help herself. "I got him to help you Dad."
Suddenly it was all clear. I was the bag of bones. I was the one who was severely sick. I was the one she wanted to help. I was the one who was blind…. but now I could finally see.
It has been a decade since that tear-filled day in the woods. We thought we left the war out in the swamp that day, but now, Stella will have to fight for her life again; and she is fighting to win.
We are with our daughter to fight this new fight—and we are also with all of our brave men and women, who sacrificed, and still sacrifice, for our country today.
Bentley is with you too!
If you served with Stella, are currently serving in a theater of war, or have served in Operation Enduring Freedom, Operation Iraqi Freedom, Operation New Dawn, Operation Desert Shield/Storm, or the South West Asia Theater after 1990, and you feel you may have been exposed to, or affected by, open burn pit toxins please contact: The Airborne Hazards & Open Burn Pit Registry located on the www.publichealth.va.gov website, or call your local VA for more information.