Posted on
School committee withdraws 'team selection' policy proposal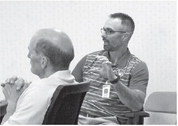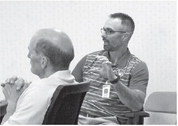 A proposed "team selection" policy has been shelved after concerns that it would deter students from wanting to participate in sports.
"It is important to give kids the availability to participate," said school district activities director Andy Guden, to members of the Medford Area Public School District policy committee during the June 3 policy meeting.
The policy had been proposed to the committee last month by a working group of coaches to address concerns about very high numbers of players in certain sports. The policy would have opened the door to holding tryouts to get a place on teams and could be used to cut underperforming student athletes. The proposal met resistance at the May school board meeting as being a dramatic shift in philosophy for the district.
Prior to last week's policy meeting, the working group of coaches met with administration and decided to recommend the district not go forward with it at this time.
"We feel this isn't in the best interest of the district," Guden said, describing the meeting between coaches and administration as being very productive.
In addition to Guden, committee members heard input from principals Dan Miller, Al Leonard and Jill Lybert. As a group, the principals opposed the policy.
"As an educator, athlete and coach I had a lot of concerns with it," Miller said, noting that rather than discouraging students from participating in sports, the district should be encouraging them. "I think education is about getting involved in as many activities as we can," he said.
Miller said many factors go into making a strong sports program and even the team members who may not see a lot of game time are valuable as being part of the team and building camaraderie. He said that there shouldn't need to be a trade off between having participation and having competitive teams.
"I think a cut policy is a cop out for our coaches and administrative staff," Miller said. He explained that part of being a coach is having honest discussions with athletes and parents about expectations for playing time and goal setting so the students know where to improve. Miller compared the sports team to the classroom and noted the district does not allow students to be cut from classrooms.
Miller's views were echoed by Leonard and Lybert who went on to note the bridges athletics builds between the community and the school. "It builds our school community," Lybert said. "We want them competing at their level."
Leonard said a team selection policy flies in the face of encouraging student participation. He said the district needs to encourage and require coaches to have the difficult discussions with kids.
Guden read a letter from former student Emily Zirngible who voluntarily left a sport in her senior year to pursue theater because she recognized she would not see a lot of playing time. The letter noted that making the choice allowed her to pursue other passions.
"I am all about kids participating," Guden said. "I want them to feel good about their participation."
In place of a formal team selection policy, the district will put together some general procedures for coaches to follow in situations where the numbers of players going out are high.
Committee chairman Paul Dixon said the district is blessed to have the number of activities and interest in place. However he asked if there was a practical limit to the number of participants. "Can we handle 70 women on the volleyball team? Is there a point where we don't have the physical layout or manpower to do 70?" Dixon asked.
"I think there is a threshold, but I don't know what that number is," Guden replied, noting that if the district provided the support needed for a program of that size they could do it. "If we don't have that support it is hard," he said.
Miller said there needs to be a change in expectations with larger programs. He said an option would be that not all team members would suit up for every game. He said one of the concerns at this point is in trying to find games for all the levels of teams and as a result having kids going everywhere to compete.
District administrator Pat Sullivan explained it by saying instead of bringing 25 girls to a game and having most sit on the bench, they would take 12 or 15 girls. The ones who did not go to that particular game would still be part of the team and be at practice, but just didn't make it for that game.
Guden noted this is already done in the post-season where the WIAA rules limit the number of athletes schools can bring to a game. He said for volleyball the limit is 15 student athletes.
Committee member Cheryl Wibben commended the coaches group for bringing the issue to the committee's attention and for their continued suggestion to pull it back. She noted that at the high school varsity level, competition is important and the lower levels are more for development. "You are grooming for the next level," she said. She did express displeasure that in the past there have been "senior night" and "parents' night" games where the upperclassmen on teams never saw playing time Lybert said they have had that conversation with coaches about ensuring seniors had playing time in those games.
Committee member Barb Knight asked if the district had the communication tools in place to make clear the expectations for parents, students and others.
In answer, administrative staff members said they favored having procedures in place. Leonard compared being on a team to being on a school bus. "We don't all get to sit in the front," he said, noting there is a life lesson in understanding that. He said they need to have the difficult conversations about strengths and deficiencies.