Posted on
Schafer Cherishes her Memories of Competitive Sports at Medford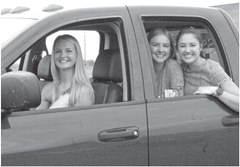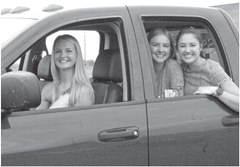 by Matt Frey, Sports Editor
One year ago, the spring sports season appeared to be the least likely of seasons Emily Schafer wouldn't compete in during the 2019-20 school year.
"I probably wouldn't have believed it," Schafer said of the unforeseen pandemic that brought the school year to a most unusual end. "You don't really think that anything that big can happen where you wouldn't get in the last sport of the year."
Schafer did get to play in her volleyball and hockey seasons to cap off a four-year run at Medford that's culminated with her being one of this year's winners of the M Award, emerging from a remarkable 2020 group of female candidates.
M Awards are presented annually to two senior studentathletes at Medford Area Senior High, one male and one female, following a vote that includes the school's coaches and its teaching staff who consider candidates' academic and athletic achievements. Minimum requirements are a 3.0 grade-point average and four letters won during their time at MASH.
Winners are then submitted as Medford's candidates for one of the state's most prestigious honors, the WIAA Scholar Athlete Award. Onyi Ekwueme is this year's male winner.
"It's really cool," Schafer said. "I guess I didn't really expect to get it. It was a nice surprise."
Schafer's senior year looked to be in doubt last April when she needed surgery to reconstruct her knee after injuring it in an early-season softball game at Wisconsin continued on page 12 Schafer Cherishes her Memories of Competitive Sports at Medford
continued from page 9
Dells. Not only did she come back, she came back quicker than anyone could have expected, returning to the volleyball court in early September.
After earning All-Great Northern Conference honorable mention from her back row position in that sport, she had a season for the ages with the girls hockey team, smashing the school record and leading the state with 62 goals. She added 19 assists. She leaves the program with 113 career goals and 39 assists.
"Before this year, I'd have a hard time getting 20 goals," Schafer said back in late January. "Maybe the puck's just bouncing my way. It's finding the back of the net."
At the time of the surgery, Schafer said she was told the recovery time would be six to nine months minimum. It took a lot of hard work to be back on the volleyball court in just under five, but she said that rehab time was well worth it last summer and it taught her lessons she can take with her for the rest of her life.
"I learned a lot about myself," Schafer said. "I think I truly found myself. I was able to figure out how much inner strength I really have. I just found myself really happy after going through it."
The last athletic hurdle to clear was supposed to be getting back on the softball field this spring. But the coronavirus obviously changed that.
"I was really looking forward to the softball season just so I could prove to myself how far I've come," she said. "There were definitely fears that come with it that I probably would've had this year. But I was looking forward to that challenge of getting over them and being able to push myself and see what I've got. And, we had a really strong team this year I thought."
Pushing on the academic side of things is nothing new for Schafer, who will attend UW-Stout in the fall and major in engineering technology. The school's website states this program provides students with a unique career advantage with four engineering concentrations in industrial automation, mechanical design, plastics and production operation.
"It's definitely about finding the balance that works best for you," Schafer said of achieving in both academics and athletics. "You have to put time into your sports but you have to put time in for your school work and your tests. It took me quite a bit to figure out how much time for each actually worked best for me. Once I figured that out it became pretty easy."
Like most seniors, Schafer, the daughter of Thad Schafer and Jill Lybert, said the end to her time in high school was strange and disappointing.
"It has its pros and cons for sure," she said. "It's nice not having school, but you still have your online schoolwork. That can be pretty challenging not being there faceto- face with your teachers. It stinks because all of us seniors missed out on probably the most fun month of school we'd ever have. That part's pretty hard because there was a bunch we were looking forward to and we just didn't really get the chance to do it."
And, as she walks away from the competitive sports arena, Schafer takes away lots of great memories.
"There's definitely really cool things that happened in the sports themselves, but I think it's the bond you get with the people that are also playing the sport," Schafer said. "You make memories that way. I have a lot of memories from bus rides or going out to eat with the team. It's not necessarily just what happened on the ice or the field."