Posted on
LISA SHEAR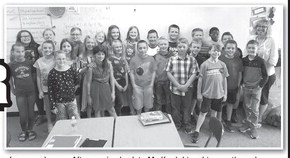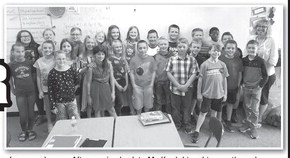 Taylor County Educator of the Month
I am a fifth grade teacher at Medford Area Middle School ( MAMS).
How long have you been an educator?
My teaching career began in Hoehne, Co., where I taught third graders for several years. After moving back to Medford, I taught seventh grade reading and language arts at MAMS for sixteen years. And nine years ago, I moved to fifth grade and am currently teaching fifth graders. I've been teaching for 28 years now.
Who was your favorite/best teacher when you were a student and why?
I truly have many teachers from elementary school through high school that I remember kindly because I made connections with them and those memories have stayed with me. But my third grade teacher, Mrs. Steenhoven, stands out because she first made me think about becoming a teacher. She exhibited a caring and encouraging spirit, made each day something to look forward to, played kickball and other games with us at recess time, and inspired my love of reading with the Laura Ingalls Wilder series.
Why did you choose this profession?
One of the reasons I chose this profession is because of my parents, who first instilled a love for learning as well as an importance for education in my sister and I. I still look to learning as a way to keep moving forward in life, a way to better who I am. I also chose this profession, like so many others, so that I could make a difference in students' lives. I've always enjoyed working with young people. So, I strive to make an impact that will stay with my students, like Mrs. Steenhoven, and help them toward realizing and achieving their life's dreams.
What inspires you to continue as an educator?
I'm always inspired to continue teaching after running into former students while they are in high school, college, or out in the workforce, and I hear about the successes they are encountering. I'm able to witness the amazing people they've become since I last saw them in my classroom when they were 10 years old. Plus now that I've been teaching for quite awhile, I'm enjoying the second generation of my former students. This gives me a strong sense of pride and happiness, which also inspires me.
What is your favorite memory as an educator?
My favorite memories are numerous! We are lucky in education because each day holds big and small happenings that you just don't forget. I get to enjoy those breakthrough 'AHA' moments, the huge smiles on students' faces because they feel good about themselves and what they're doing, exciting daily conversations that let me look into their lives outside of the classroom, thoughtful gifts and homemade treasures that are kept to this day, laughter that makes your cheeks hurt and tears roll down your face, administrators who have made our district an exceptional one, colleagues that inspire me, teach me, and continuously help me, and co-workers, of many titles and talents, are all part of the favorite memories I have for my MAMS family.
39636_ 9
Sponsored in partnership with: