Posted on
Battling on the front lines of a pandemic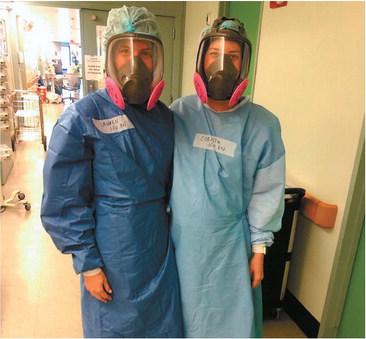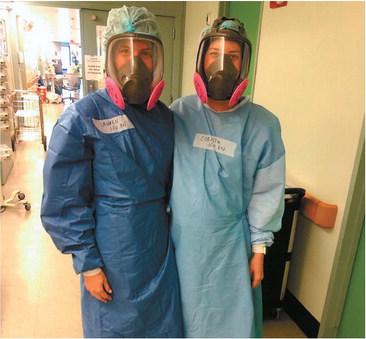 A Medford native is on the front lines of battling COVID-19 as an intensive care unit (ICU) nurse in New York City (NYC).
Corissa Quednow is a 2010 graduate of Medford Area Senior High School and is the daughter of Tom and Carmen Quednow of Medford. She has been working as a registered ICU nurse in New York City since April 6.
Quednow graduated from Winona State University in 2014 and moved to Tampa, Fla. right after graduation. She worked at Moffitt Cancer Center for about four years, three of which were in the ICU.
Most of 2019 she worked at Tampa General Hospital in the Surgical Trauma ICU. In Florida she met her now fiancé who is in the Air Force. In November 2019 they got a change of station and moved to Maryland. Quednow said she took two local travel nursing assignments before deciding to go to NYC on another assignment.
Quednow and her future sister-in-law Lauren Rusch came to New York City together to work in the ICU during the COVID-19 pandemic. New York leads the country in reported cases of COVID-19 with more than 313,000 confirmed cases and nearly 19,000 fatalities from the disease.
Quednow recently took time to answer questions from The Star News and share her experience in working as an ICU nurse.
What is a typical day in your life? How has it changed due to COVID-19?
Typically as ICU nurses we spend the first 30 minutes getting a report on our assigned one to two patients. Usually there is time after that to dig into our patients charts to learn more about them, see what medications they're on, and what we think they may need for the day so we can make a plan.
The hospital I'm assigned to in New York is almost completely COVID positive. We are in full PPE all day long instead of only when we go into the patients rooms. Upon arrival to the hospital, I go to the nursing office to clock in and find out which floor I am assigned to. I also get paper scrubs which I change into. Once I get to my unit, I put on a gown, shoe protectors, hair protection and my mask, which includes eye protection. We wear this all day, and add another plastic gown and gloves when entering patient rooms.
When I first got out to NYC we were needing to take care of four to eight ICU patients. Shift report was almost non existent, and it doesn't leave any time for getting to know our patients. Now, we are finally becoming better staffed at taking our typical two patients per nurse, which is awesome because now we can somewhat go back to the nursing we are used to.
Taylor County has had (knock on wood) no confirmed cases and a lot of people here are saying the risk and alarm over equipment and ventilator shortages has been exaggerated. Has it been exaggerated or is this for real?
In my opinion, its real! The fact that Taylor Country is rural, and was well prepared is why it feels exaggerated, because the preparation has worked and kept people from getting sick.
I can't speak for every area of the country, but New York City is so densely populated people literally are on top of each other on a day-to-day basis, which I think is why it got so bad here. The ventilator shortage was definitely real. For example, the hospital I am working at might own around 20 vents, and only use an average of 10-15 on a given day. When I first got here at the beginning of April we had well over 100 ventilators being used in our hospital alone.
What is the hardest part of working in ICU?
Being an ICU nurse, death is unfortunately something we see. The hardest part about that here, is that there is a lot more death than any ICU nurse has had to see, and also that these patients have to die alone.
Have you ever been afraid that you will get sick or that you will bring it home with you?
When I first got to New York City I was afraid of that, but the PPE given to us at work does make me feel protected! I don't bring my work shoes into my hotel room and I wear the provided paper scrubs at work so that there is less of a chance that I bring it home. I will be here until the end of June, so we will see how much better it gets by then, but I will likely have to quarantine at home in Maryland and wait to see any family/friends.
How has the pandemic and stay at home orders impacted life in New York City? What do you do in your down time?
My off days consist of a lot of walks, reading and watching TV. No one in New York City is outside without a mask. I am close to Central Park right now so I do spend time there. There are a lot of people out when the weather is nice, but everyone is doing a really good job of distancing from each other and wearing their masks.
Do you ever get discouraged by people's attitudes? What keeps you going?
I get frustrated when people ask me if it's really that bad, and are skeptical. I know it is difficult to understand how bad it is here when you can't see it for yourself, so I have just tried to explain to people the truth. That it is real, and the news isn't lying to them.
Knowing what is happening now, would you tell your younger self to still do this? Why or why not?
I am definitely happy that I am here. When I first got here I thought "what did I get myself into?!" But I originally signed a four-week contract, which would have ended last week, and have now extended my time here for a total of 12 weeks. As much as I miss home, my dog, and my fiancé, I am really, really happy to be here. I want to keep helping and see this through as much as I can! We are saving lives and are truly needed!
What has been the biggest personal challenge facing you when working with your patients?
That I can't care for them the same way I normally would. Usually, there is family that basically wants to camp out in the room with their loved one. And when family can't be there, we usually have time to speak with them on the phone at least once during our shift. It is so hard to see all of these patients alone.
What would you like to say to everyone in Taylor County?
I am so impressed and excited by the fact that there haven't been any positive cases. Ya'll have done an amazing job preparing. I don't know when you are set to open back up, but just keep taking it seriously!