Posted on
Porter lends vocal talent to the State Honors Choir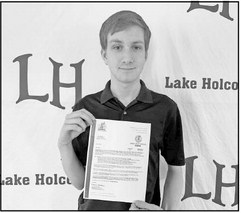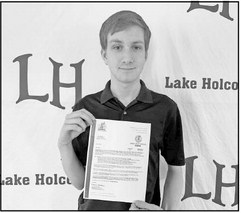 Lake Holcombe junior Jack Porter will start his senior season in fine style, after he was selected to take part in the 2020 Wisconsin State Music Association (WSMA) State Honors Mixed Choir. Jack is one of 1,400 students who auditioned and is one of 104 in the choir.
"This is a huge accomplishment and a great honor," said Lake Holcombe High School choir teacher Shaylae Szotkowski.
Anyone can audition in ninth through 12th grade, but seniors will have already started college by the time the choir performs in October each year.
"So, this was his last shot," said Jack's mother, Laura Porter. "If he didn't make it, he couldn't have tried out again."
Jack auditioned the beginning of February, and will attend State Honors Summer Camp in June, with rehearsals culminating in a performance Oct. 29.
"It was something that we (along with Jack's father, Mark) knew that we wanted him to try out for, because…it stretches a student, especially a student that enjoys music and has a natural talent," said Laura. "It's kind of nerve-wracking, because you really want your child to have this musical experience, but it's high stakes." For his audition, Jack chose a classical piece, then performed it in front of a judge, after which, his teacher had to leave the room. Jack was evaluated on oral ability, singing an Italian song called Nina, about a girl who won't wake up.
Not only did Jack have to perform the song in Italian, but he also had to convey the emotions of the piece.
"It was very difficult," said Jack.
Jack was considered bass on the level he entered, while the judges played random notes that Jack had to sing back to them.
"They're (musical notes) all over the place," said Jack. "It's just really weird."
Admitting the experience is very different from the annual District Solo and Ensemble each year, Jack says the audition is at a higher level.
"It's pretty scary, because you get in there with your teacher…then your teacher leaves, and then they bring you to over to the piano and it's game on," he said.
Although Jack had attended the honors choir when he was in middle school, this moment could be even more special, as it shows how he has grown as a musician.
"It's fun, you know, and they prompt you through all the things," said Jack, adding the experience challenges him to be better.
The choir's performance will be recorded and seen on PBS during Thanksgiving time, as well as broadcast on the radio, for the area to see that Jack is "one of Wisconsin's finest high school musicians."
"To have your child be in that category, it's an honor, it truly is an honor and we're very proud of him," said Laura. "Everybody is just really, really thrilled to have our school represented."