Posted on
Aspirus Volunteers donate medical equipment to benefit patients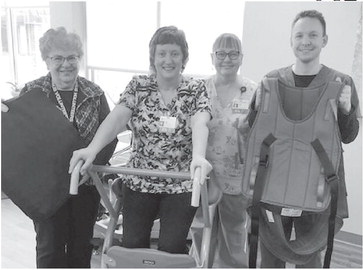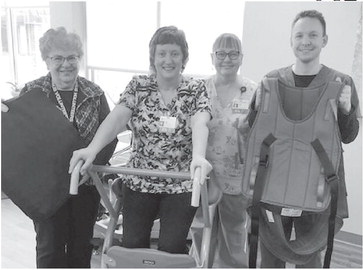 Aspirus Volunteers-Medford, whose mission is to bring comfort to those in distress of mind or body, recently supported the purchase of a sit-to-stand patient lift, patient-lift walking jacket and wheelchair cushions for the benefit of patients at Aspirus Care & Rehab.
"This equipment will certainly – and already has – benefitted patients," said Joe Konop, certified occupational therapy assistant (COTA) at Aspirus. "It is ideal for unsteady patients and those in need of special assistance."
The sit-to-stand patient lift allows patients to help pull themselves from a seated position into a stand. It reduces how much manual support caregivers need to provide a patient while also acting as a useful rehabilitation tool for patients capable of bearing at least partial weight.
Using the walking jacket in conjunction with the patient lift allows patients to practice standing, stepping and walking. The walking jacket is a harness that assists patients in getting into a standing position and safeguards them from falls while walking.
"It feels good to know that proceeds from volunteer fundraising efforts are being used for direct benefit to residents and patients," said Kay Ludwig, Volunteers treasurer. "These purchases will enhance safety for both patients and staff."
The wheelchair cushions are specially designed for people with delicate tissue. The cushions adjust to a patient's body to distribute weight comfortably and reduce pressure, which makes it easier for blood to flow to the tissue where it is essential for maintaining tissue health and promoting tissue repair.
For more information about volunteer service activities at Aspirus Medford Hospital & Clinics, call the Volunteer Services office at 715-748-8789.