Posted on
One School One Book brings reading home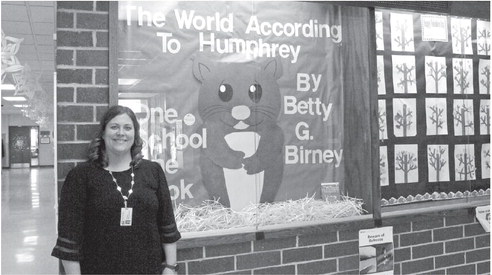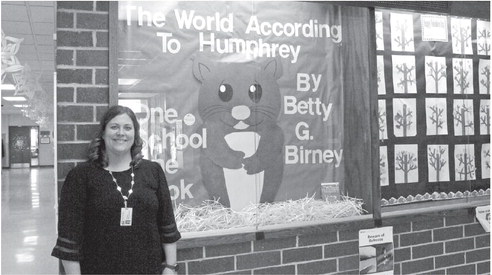 Medford and Stetsonville elementary schools begin family reading project on Feb. 17
Robyn Renderman is passionate about reading and wants the whole community to share in that passion.
Renderman is the reading teacher at Stetsonville Elementary School and works every day to help open students to the knowledge and wonder that await them inside books.
Last summer Renderman was spending time with a friend who noted that she had to get home to read with her family as part of a school program. The idea of a family reading program intrigued Renderman and she began looking into it and she found the organization Read To Them and their One School One Book (OSOB) program. Excited by what she learned of the program she brought it to the school administration who also grew excited and gave her approval to move forward with it.
Under the program, all the elementary school students in the district receive a copy of the same book. Each night students and their families are asked to read a chapter of the book together.
Renderman said she feels it is important that each child has a book of their own. In addition, she noted that Spanish language versions of the books will be given to the primarily Spanish-speaking families of the school community.
According to Read To Them, the program is designed to create a shared reading experience across the entire school community. Every family will read the same book at the same time. The shared reading experience will be maximized by presenting enriching activities at school that enable children to share and experience the characters and the world of the book.
The families and students will have an opportunity to answer trivia questions about what they have read together with the opportunity for prizes and activities throughout the project.
The book selected to kick off the program at Medford Area Elementary School and Stetsonville Elementary School is "The World According to Humphrey" by Betty G. Birney. The book tells the story of Humphrey, a humble hamster, and his adventures as a class pet.
Students will be receiving their books soon and the reading will begin on Monday, Feb. 17 and continue for 15 days ending with the Read Across America events. While a chapter a night may seem like a lot of reading, Renderman said with only eight to 10 pages per chapter, the actual reading time is fairly short at under 20 minutes a night. Less than the time to watch a 30-minute TV show. For those unable to read, the school has set up a special website medfordosob.weebly.com where there are video links of community members reading chapters of the book. Renderman noted that listening and following along in the book is an important way for students to learn.
According to Read to Them, reading to children for 15 minutes a day sounds simple, but the results are complex and permanent. Extensive research has shown that if children hear words for two minutes daily, they will have heard 180,000 words a year, and with five minutes that becomes over 350,000 words in a year. Young children can be read to at any age, even as infants, and will internalize the sounds of words with delight as long as the duration of reading coincides with a child's natural attention span. Fifteen minutes a day is a small investment in time that yields substantial benefits for a lifetime – like a 401k vocabulary account for future literate success in life.
"Reading aloud sharpens the imagination, creates healthy dialogue, and engenders in children a love of reading. Children who learn to listen eventually learn to read, and literacy skills provide the basis for a lifetime of learning and productivity. When children listen, they learn about their own lives and the stories of others around the globe," the group states.
In addition to reading the book at home each night, teachers in the district were invited to incorporate things from the book into their classrooms, using it as a launching point for other lessons.
Renderman said she is excited to officially kick off the program with the parent conferences at the schools this week. She praised area businesses that stepped up for prizes and support of the literacy project. Her goal is to make it an annual event and in the process create a culture of literacy in every home.