Posted on
ShowCase Players present 'A Nice Family Christmas'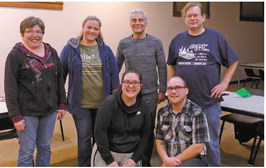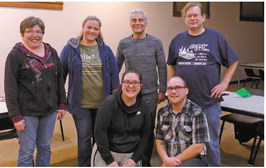 The ShowCase Players is giving you your Christmas presents early this year, in the form of four performances of the raucous comedy, "A Nice Family Christmas," by Phil Olson. Directed by Jeffer Scheuer, and produced by special arrangement with Samuel French this laugh-out-loud comedy will make you wish you had kept your tree and tinsel.
All four performances will be at the Colby High School Theatre. Show dates and times are March 12, 13, 14 and 15. Thursday through Saturday performances are at 7:30 p.m., and the Sunday Matinee is at 2 p.m. Tickets may be purchased at the door. If you donate a nonperishable food item to the food pantry, $1will be subtracted from the price of admission.
Watch as the Lutefisk hits the fan, in A Nice Family Christmas. The play follows the three Lundeen siblings of western Minnesota as they gather for Christmas at Mom's house. Jordan Aschenbrenner of Rib Mountain plays Carl Jr., the under- achieving middle brother. Kevin Wyeth from rural Curtiss plays the eldest brother, Michael, the favorite son. Ariel Oehmichen of Colby, plays Stacy, the youngest of the three siblings, and the quiet one. Their mom, played by Elaine Haas of rural Colby, not only has to contend with her kids' sibling rivalry, but also the antics of Grandma, played by Roxie Wetterau of Spencer. Adding to the insanity, Greg Jackan of Marshfield, plays party crasher, Uncle Bob. Adding fuel to the yule log, McKenna Deusterbeck from Withee plays Jill, Michael's emotional wife who arrives with surprising news.
If you would like a chance at winning free tickets, the ShowCase Players has again partnered with many of the outstanding public libraries in the area. All you have to do is drop by one of the participating libraries, fill out an entry slip, and drop it in the provided entry box for your chance to win. There will be two pairs of tickets each to be given away at the Abbotsford Public Library, the Colby Community Library, the Greenwood Public Library, the Loyal Public Library, the Owen Public Library, and the Withee Public Library. While visiting your local library, please take advantage of their many fine programs. Libraries have so many wonderful things to offer besides lending books.
The ShowCase Players and Empty Bowls of Colby are partnering on Saturday, March 14. Empty Bowls will be serving soup and so much more, from 4 to 7 p.m. in the Colby High School cafeteria. Proceeds from Empty Bowls are used to help support the food pantry. For an atwill donation, you get to try numerous soups provided by local churches and vote for your favorite. Afterwards, you get to choose an artisanal bowl made by local art students. SCP's show starts at 7:30 p.m., so it is a great way to have dinner and a show, while helping two great community organizations.