Posted on
Setting limits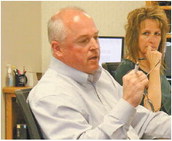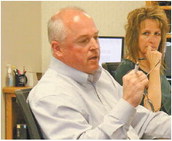 Medford School Board looks at parameters for future district calendars
Members of the Medford School Board on Monday night gave more control over the details of the school calendar process to district administrator Pat Sullivan.
Last month, the board approved the 2020-2021 school calendar, as part of the discussion board members directed Sullivan to move forward with planning for the 2021-2022 calendar and bring a list of parameters that would make the calendar process go smoother in the future.
According to Sullivan, the parameters he looked at include: Start date of September 1 - while this is mandated at the state level, Sullivan noted that if September 1 fell on a Friday of Labor Day weekend they may look at a later start date.
_ End date for all students on the Friday before Memorial Day.
_ Full day of school on the Monday and half day on the Tuesday of the week of Thanksgiving. _ A full week-long spring break.
_ Keeping the student days at 170 which with the length of the school day will give more than enough hours of instruction to allow for up to three snow days not to be made up.
The result, Sullivan said is a 2021-2022 calendar that closely matches that of the one approved for next year. He noted that it was a comparatively easy calendar to do with Christmas and New Years on Saturdays that school year.
Board member Mark Temme again questioned the value of the freshman-only day to start the school year at the high school. He said this is a day of teaching lost for three grades. "I don't know if that is a positive thing," he said.
He suggested having freshman attend school a day earlier than all the other grades, starting on August 30.
Sullivan noted that under state law this could not be a mandatory school day and the district would not receive state aid for that day. He questioned how many students would come if it was not a required school day.
"It is frustrating that we condone a day off for three grades," Temme said.
Dede Strama noted there would be an additional cost to the district for bussing and a teaching day for the staff to add a day before the school calendar begins. Board president Dave Fleegel noted that while he hasn't been a huge supporter of the freshman-only day in the past, he said the principals and staff at the high school have said it was valuable.
Vice principal Sue Ann Schroeder agreed. She said for many students it is very beneficial to allow them to get oriented in the school before having upperclassmen around. Curriculum director Laura Lundy echoed Schroeder saying it helped make the students more comfortable.
Sullivan noted while some students need it more than others, it has been a positive for the district. Temme said he was not trying to get rid of it, but to restructure it to not lose a day of instruction for other high school students.
"If you have a day of school that is not required you won't see a lot of kids," Sullivan said.
Students attending the meeting agreed with Sullivan's assessment and with one saying the day was a valuable one for her while another student said she could have done either way.
Board member Brian Hallgren took the opposite approach and said too much emphasis was put on the start of the year while he would prefer a hardline approach about ending before Memorial Day weekend.
Sullivan explained that it comes down to the hours. The calendar has historically included two snow days that did not have to be made up. However he said the district has enough hours built into its schedule to allow a third day. The number of excess hours varies by school in the district with different standard for high school, middle school and elementary school. He noted that with the way the busing schedule works Stetsonville has the fewest number of excess hours over the course of the year.
While agreeing with Hallgren's desire to end school prior to Memorial Day, board member Cheryl Wibben was less willing to commit to it in the case of a year like that year where there were more than two weeks of missed school to be made up.
She suggested leaving it up to committing to meeting the Department of Public Instruction (DPI) standards.
In addition to setting the calendar, the board also took action to grant Sullivan the power to decide when and how snow days would be made up. This could include turning planned in-service days into learning days, adding minutes to school days to make up lost hours, or adding days to the end of the school year.
Sullivan had sought this authority after last year when a snow day occurred early in the month and he had to wait weeks until the board meeting to have a decision made.
"Be careful of putting brick walls on both ends," Temme said, cautioning against setting too strong a parameter at the end of the school year.
Sullivan noted that whatever is done the school board will know about it and if they disagree with his decision will address it with him to have it changed.
Fleegel said that while they were taking action at this meeting to approve the calendar, he would like it to go through the policy process to establish how it will be handled in the future. He noted with the level of differing opinions on the board, it would be better to have a policy to follow.
On a voice vote, Temme and Wibben were opposed to the motion to set the 2021-22 calendar and give makeup day-setting authority to Sullivan. All other board members voted in favor with Paul Dixon absent.
Facilities
Board members received an update on the facilities planning efforts with Sullivan reminding them and the public that the idea of looking at the high school building came out of the 80+ member planning focus group that including facilities as part of the overall district plan.
He read the section of the plan calling for the district to look at expansion of science and technology spaces, remodeling of the high school and the expansion of theater and gym space. "Nowhere does it say 'build a new high school,'" Sullivan said, Sullivan said he continues to hear in the public that he is pushing for a new high school. "I have never said that," he said, noting that some people in the public have asked for a new high school and the district got rough estimates on what that would cost as a comparable.
Sullivan said it is important that the message stays clear that they are seeking input from the community about the school facility. He said he would anticipate that sometime this summer the board would decide if they were going to send something to the voters for their approval in a referendum.
While the district has yet to decide how they would want to proceed with any potential upgrades to the high school, board member Mark Reuter went on record with his personal support for building a new high school.
"I want a new high school but I also want the green Mustang that was at Medford Motors, world peace and all kids to be immunized," Reuter said, noting there is a difference between wanting something and the reality of having it.
In other business, board members:
_ Approved the policy recommendations for second reading including the deletion of separate policies governing athletic sports banquets instead merging them in with other co-curricular banquets. The board also approved editorial changes for the number of students enrolled in the Rural Virtual Academy to include more students.
_ Received an update from the recent Wisconsin Association of School Board conference that was held last week. Among the topics presented was a proposal to increase the minimum retirement age for teachers to qualify for Wisconsin Retirement System (WRS) from 55 to 59.5 for anyone under 40. This was proposed as a way to address the teacher shortage by forcing teachers to teach longer. It would also allow teachers to return to work for three years and collect both their pension and paycheck without penalty. Sullivan said they will continue to watch the issue at the state level and bring up their concerns when he talks with state officials.