Posted on
Program builds technical, business skills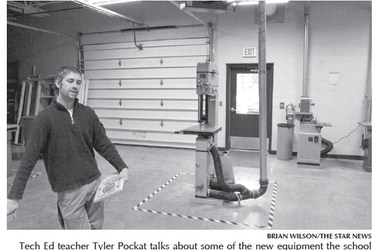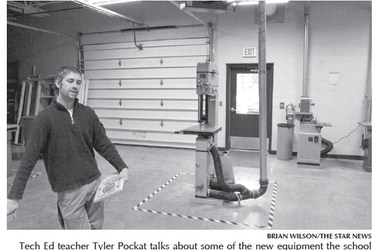 Pirate Ship Productions gives Gilman students real-world experience
Learning while doing is at the core of Pirate Ship Productions (PSP), an innovative student run business within the Gilman School District Technology Education department.
Last week, the school held an open house for the PSP program with 84 area residents and business people attending to see the new equipment they have been able to purchase for the school along with learning about the exciting things the students are doing in running the classroom-based business. The open house also unveiled the Forward Bank Tech Ed Lab at the school.
Forward Bank had pledged up to $24,000 on a three to one match for community donations to raise $32,000 for the purchase of equipment for the program. In 2019, Pirate Ship Productions was established at Gilman High School. The purpose of this student-run business is to establish manufacturing skills through woodworking and metalworking. Together, tech ed and business classes are working together to learn all aspects of running a small business. Students develop, produce, market, and sell hand-crafted products to individuals and businesses in Gilman and the surrounding areas. Also, in 2019, Pirate Ship Productions partnered with Artisans in Glen Flora. The school received donated equipment that will allow them to create, market, and sell apparel.
In addition to Forward Bank, the program also received support from Gilman Cheese, Olynicks, Enerquip, Klinner Insurance, MuleHide in Cornell, and LaGranders in Stanley.
The innovative learning program is headed by business teacher Adam Johnson and tech ed teacher Tyler Pockat. They work with a group of 15 students who design and produce a variety of products and services including rebuilding trailers and implements for area farmers, building cutting boards and pizza peels for customers, making signs, printing shirts and laser engraving.
The students work in all aspects of the business from responding to orders and doing the invoices to production and shipping. For example, student Emma Warner is responsible for handling the invoices and doing the billing work. However, she might also be asked to help sand cutting board or help package items for shipment.
According to Pockat, business has grown steadily from producing 25 hunting shacks to selling dozens of cutting boards and pizza peels. He said orders come in on a deadline and the students work to meet those deadlines and get the work done.
Pockat also noted that the workplace environment of PSP gives a glimpse of real-world conditions. For example, if a weld is not done correctly or up to the customer's requirement it will be rejected costing PSP business.
All profits earned by PSP will be given back to the students in the form of scholarships. Students will not be paid directly for their contributions to these classes. They will receive school credit and will be eligible to receive a scholarship if profits warrant.
Pockat noted that five months into the year, they are already near their goal for where they wanted to be and that the orders continue to come in, with word of mouth driving the growth from places like Portage and as far away as Arizona.
Principal Jon Hess praised PSP noting it provides an important component in ensuring students are job and career ready. He said the skills the students are learning in the program are highly sought after in workplaces and could open the door to employment for them in the future.
Students participating in PSP needed to apply and go through an interview process before they were allowed to participate in the program. Hess said PSP has had the benefit of encouraging more students to pursue the trades and business programs which will have longterm benefits for the community.