Posted on
At the same time, Time ….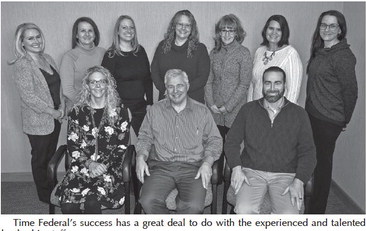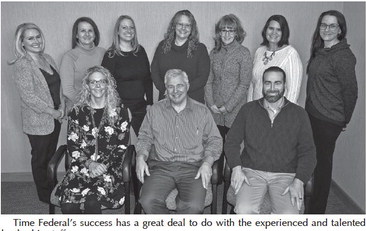 At the same time, Time Federal, as all financial institutions have, has had to deal with increasing regulation and an explosion in technology. Consumers are demanding more from their financial institutions from being able to fill out loan paperwork online at any time of the day or night or being able to do their banking through smartphone applications.
This has presented challenges for financial institutions and has caused them to change with the times and with consumer demands. Current president/ CEO William Weiland, with the support of the board of the directors, is leading the financial institution into a new direction with the recent acquisition of River Cities Bancshares and River Cities Bank.
The purchase was an exciting one for Time Federal allowing it to tap into the business lending expertise of River Cities bank while extending its own mortgage lending expertise into new areas. Following the acquisition, Time Federal has grown to have assets in excess of $800 million.
In addition to opening up new markets and expanding into commercial lending, Weiland noted that one of the biggest things to come out of the acquisition is the staff from River Cities. He noted that all of River Cities leadership has been retained bolstering Time Federal's own leadership.
"This is a very positive arrangement for both banks to continue to focus on community banking while melding the consumer banking strengths from Time Federal Savings Bank with the business banking strengths from River Cities Bank," said Weiland. "In addition, our physical markets are adjacent without overlap. This will allow us to maximize our potential to keep all of our current employees working together as a team."
The past year has been a busy one for the bank leadership as they have worked to implement the purchase with acquisition completed on November 1. However the transition is still ongoing.
Time Federal is using the acquisition and the availability of new products and services as an opportunity to rebrand its image. Later in January, Time Federal will be announcing a name change that will go into effect on Feb. 24.
While the name will change, the bank's leadership and core value of having a commitment to doing its best for its customers will not change.
Other financial services
Beyond banks and credit union, the financial needs of the area also include investment advisors such as those provided by Brian Hedlund at State Street Wealth Management. Hedlund uses his decades of experience in financial advising and insurance at Hedlund Agency to help clients plan for their future goals.
Since 1994 Damm Financial Tax Accounting has provided the area with sound financial and tax planning and advice, allowing business owners and individuals peace of mind. Peace of mind is also a major part of what United Mutual Insurance offers its clients.
While United Mutual's name is relatively new, the company has a long history of serving the area. It was formed last year with the 2018 merger of Little Black Mutual Insurance and Farmington Mutual. The company provides a wide range of insurance products for home and business clients.