Posted on
2019 Taylor County 4-H Annual Awards Banquet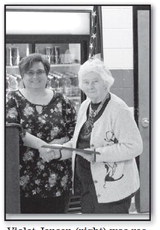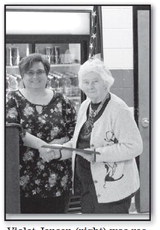 Violet Jensen of Little Farmers 4-H issued a challenge to leaders and 4-H members to beat her record of 50 years of service as a 4-H leader.
Jensen, and other milestone leaders were among those recognized at the 2019 Taylor County 4-H Annual Awards Banquet held Nov. 17 at Medford Area Senior High School.
The event recognized the efforts of 4-H members and leadership over the past year. It also included reports from members who took part in educational travel experiences through 4-H.
Highlights of the program included the awarding of "Friend of 4-H" awards to Medford Cooperative with Dan Tanata accepting and Huey's Hideaway with James Stokes accepting.
Katie Krause was presented with the Leader of the Year award by Lanice Szomi and officer with the Taylor County Federation of 4-H.
Ryan Klussendorf of Farm Bureau Federation presented the Key Award to Jack Krause and Elaine Schumacher both of Liberty 4-H. The Wisconsin 4-H Key Award Program recognizes a select group of 4-H participants who have demonstrated consistent growth in their 4-H involvement, developed and applied their leadership skills and actively participated in the functions of their 4-H club and community.
Volunteer leaders achieving milestone years were: Five years (silver) — Nancy Jensen, Little Farmers; Sara Matyka, Little Whispers; Daniel Krause, Liberty; and Joshua Penk, Diamond Lakers.
10 years (gold) — Heidi Brandner, Countrysiders; Cheri Klussendorf, Little Whispers; and Dawn Rudolph, Liberty.
15 years (pearl)— Laura Kipley, Poplar Grove 20 years (diamond)— Kathy Langteau, Countrysiders 25 years (emerald)— Stanley Halida, Anita Mnichowicz and James Mnichowicz all of Diamond Lakers.
50 years (ruby)— Violet Jensen, Little Farmers.
The following graduating members were also recognized: Kala Albers, Little Black Bears; Rainy Kalmon, Little Whispers; Samantha Stolp, Thrifty-Go-Getters; Emma Benninger, Diamond Lakers; Jack Krause, Liberty; Lydia Syryczuk, Diamond Lakers; Judson Doman, Thrifty-Go-Getters; Cassie Nicks, Countrysiders; Abby Tomandl, Little Whispers; Kara Hudak, Liberty; McKensee Schmeiser, Little Whispers; Janessa Venzke, Liberty; Joshua Julian, Thrifty-Go-Getters and Elaine Schumacher, Liberty.
Violet Jensen (right) was recognized for 50 years as a 4-H leader in Taylor County. Jensen challenged others to beat her record.