Posted on
Curling f r your Cause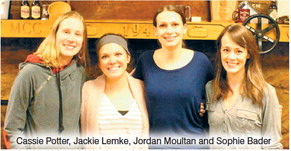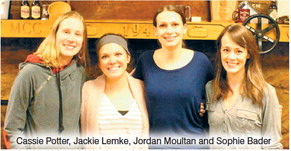 by Brian Wilson News Editor In a nail-biter finish the Medford Library Foundation Rink edged out the Stepping Stones Rink to claim bragging rights and ownership of a colorful traveling trophy in Saturday's Curling for Your Cause charity bonspiel held at the Medford Curling Club.
For the Library Foundation Rink, skipped by Jeff Hemer of Medford, the path to the championship round was a long one as the team suffered a loss in the third round and had to curl back through the second event bracket. Players curled a grueling schedule of six games to earn a chance to be in the finals where it came down to skip's rocks for the tie breaker.
By comparison, the Stepping Stones Rink, skipped by Cassie Potter of St. Paul, Minn. had a shorter, path to the championship round as they took advantage of a first-round bye and then dominated through three rounds of play before facing the tired, but determined, Library Foundation team. Potter's team had come into the competition as the favorite to win. Potter led the 2006 American Women's Olympic team and has a long list of appearances at national and international medal rounds. She was joined by third Jackie Lemke of Medford, who likewise has a long list of curling credentials including placing third in the 2014 Olympic trials; second Jordan Moulton of Minneapolis, Minn. who placed fourth in Olympic Team Trials in 2014 and bronze in 2010; and lead Sophie Bader who was on the team that won the 2014 U.S. National Championship as well as numerous world and national champions medal-winning teams.
In advancing to the finals, Stepping Stones Rink faced the Woodland Inn Stayers who were curling for the Boys and Girls Club of Greater Chippewa Falls. The Chippewa Falls-based team was skipped by Eric Anderson, third was Jon Pozarski, second was Matt Nelson and lead was Matt White.
On the Library Foundation Rink were Hemer, Hannah Grunewald of Minneapolis, Bill Grunewald of Medford, Daniel Noeldner of Minneapolis and alternate Mary Nelson of Medford.
In order to advance, they had to beat a tough Abiding Care team with skip Jeff Mueller, third Mitch Mertens, second Chuck Tlusty and lead Jim Nayse. The Medford-based team had lost to the Woodland Inn Stayers in the second round and had curled six games in a row on Saturday before losing to the eventual champions.
The real winners were the organizations and charitable causes that will benefit from the more than $1,600 raised at the event.
The Library Foundation and Stepping Stones will each receive $300 in donations in the name of the first and second place teams. Abiding Care and the Boys and Girls Club, as the charities for the runner-up teams in the first and second event brackets, will each receive a $250 donation in their team's honor.
Other teams included: The Community Mission with Jesus Rink with Mary Nelson, Deb Nernberger, Teresa Gretzinger and Jerry Cypher.
Wisconsin Lions Camp Rink with Steve DeLonay, Jim Sorge, Dennis Christensen and Connie Bergman.
Medford Education Foundation Rink Brian Wilson, Ryan Klussendorf, Tim Wesle and Jeff Albers.
Youth Curling Rink with Alex Wilson, Karlee Westrich, Gary Westrich and Nathan Willman.
Medford Area Fire Department Rink of Medford Area Chamber of Commerce Ambassadors Tony Meyer, Vanessa Hillebrand, Jesse Kreiner and Alycia Nowak.
The Cupboard (UW-Stevens Point Food Pantry) Rink of Elizabeth Wilson. Connor Boehm and Caiti Wood.
Hope Hospice Rink of Brandon Homeyer, Matt Livingston, Martena Livingston and Justin Englebert.
In addition to the registration pay-out, additional funds were raised throughout the day through silent auctions and contests with those amounts awarded to the causes of seven of the 11 teams selected at random through the day.
Organizers are looking forward to growing the event in future years to help raise awareness and funds for more area causes.
Cassie Potter, Jackie Lemke, Jordan Moultan and Sophie Bader
Tony Meyer
Jeff Mueller
Photos by Brian Wilson, layout by Mandi Troiber
Daniel Noeldner, Hannah Grunewald, Mary Nelson, Bill Grunewald and Jeff Hemer