Posted on
Large turnout for school district listening sessions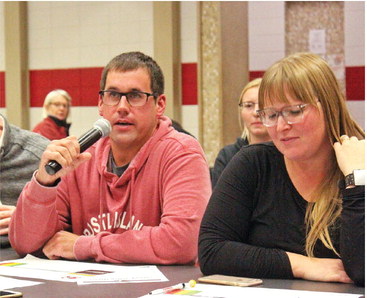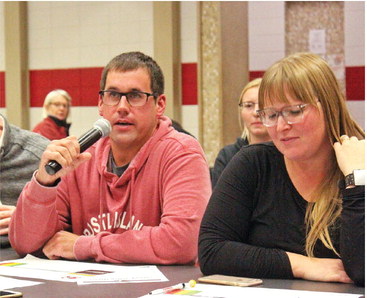 Sessions help define area priorities, district-wide survey coming in spring
BY BRIAN WILSON
NEWS EDITOR
A series of listening sessions looking to the future of Medford Area Senior High School drew 165 area residents.
"It is a special place here," said Erika Freeman a public relations specialist with Findorff, noting the turnout at the Medford sessions dwarfed that of much larger districts in the state. Findorff is working with the district to find out what residents want from the high school. This will help the board decide if they should pursue a referendum to remodel and expand the building.
Freeman noted that there was little support from those attending the listening sessions to consider replacing the high school with a new building. Building a new high school would cost about $85 million which would put the district close to it maximum allowed debt limit. According to representatives from Baird, the tax impact would be an increase of more than $3 per $1,000 of value on the current tax rate. By comparison, structuring new and existing debt would allow the district to borrow up to $20 million without impacting the tax rate due to the current referendum debt being paid off in the next few years.
According to Freeman, the sessions were productive in helping identify highpriority areas from those in attendance. This information will then be used to create a survey that will be sent out to all district residents next spring. Meanwhile, Freeman said the district will continue to work on opportunities to get information in front of the residents.
"We are taking a slow, deliberate game plan," said district administrator Pat Sullivan at Monday's school board meeting.
During the listening sessions, Sullivan emphasized that the district does not have a plan in place on what it wants to do, and is getting information to develop a plan. According to Sullivan, any referendum is still a year or more away.
The district will be holding tours of the high school on Tuesdays and Thursdays at 10 a.m. and 1 p.m. with those interested asked to come to the high school office where a staff member will lead them on the tour.