Posted on
Wisconsin at crossroads on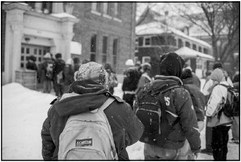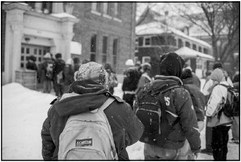 By Dean Mosiman, Wisconsin State Journal Despite promising efforts, the relentless trauma and indignities of homelessness, remain a daily reality for perhaps 20,000 men, women and children in Wisconsin.
In booming Madison, the homeless live out of vehicles and tents, double up in apartments or motel rooms, or sleep outside on streets, lined with posh bars and restaurants surrounding the majestic glow of the Capitol dome. Every day, an average of 225 people, including 46 children, seek assistance at The Beacon Homeless Day Shelter on Madison's near east side.
In downtown Milwaukee, a tent city of the homeless has spread below a tangle of massive freeway overpasses, in a city where 5,163 students in the state's largest school district, were homeless in 2018.
The La Crosse Collaborative to End Homelessness has identified 275 adults as homeless, a steady number for eight months. In Green Bay, a shelter helps thousands of homeless annually, with one in five, between 18 and 24 years old, leaving advocates concerned about where those young people will be in their 30s and 40s.
In Beloit schools, nearly 9 percent of the student population was homeless last school year.
Also deeply troubling, is the striking racial disparity in homelessness in Wisconsin. African Americans account for 6.4 percent of the state population, but 39 percent of those received homeless services in 2018. The disparity is even worse in Dane County, where African Americans comprise 5.1 percent of the population, but represent 53 percent of those receiving homeless services last year.
"It could happen to any of us," said Joseph Volk, executive director of the non-profit Wisconsin Coalition Against Homelessness, noting that many are a job loss, medical emergency or car repair bill away from losing housing. "We should not have people in our midst living in cars and tent cities. It's just morally wrong."
One way or another, society pays for homelessness, according to Volk. Investments, especially in housing, actually save taxpayer money, studies show. A chronically homeless person costs taxpayers an average of $35,600 annually, but the expense is cut in half ,when that person is placed in housing with support services, according to the National Alliance to End Homelessness.
In the past two years, after a lack of leadership and inaction by both parties spanning decades, Wisconsin created an Interagency Council on Homelessness, followed by an action plan that called for a "Housing First" approach, and recommendations to more than double the state's comparatively meager $3.3 million in annual direct funding for homeless programs.
Advocates and service providers wonder whether the bipartisan progress on the issue can be sustained.
The most pressing issue, they say, is whether the Republican- controlled Senate will pass a series of bills recommended by the interagency council. The measures were passed by the GOP-controlled Assembly and echoed in Democratic Gov. Tony Evers' first budget, but they stalled in the Legislature's GOP-controlled budget committee.
At stake, is $7.5 million in additional spending over two years, the state's largest dollar increase ever to directly address homelessness.
"I wish we weren't still bogged down in the legislative process, but it's incredibly important for the legislature to pass these bills and I hope they get to my desk soon, so we don't experience any further delay in the distribution of funds," said Evers.
As the bills await action, the potential for progress has never been more apparent.
After a long lack of advocacy at the Capitol, the Coalition Against Homelessness organized in early 2015, and in mid-2016, released "A Roadmap to Ending Homelessness in Wisconsin." It provided specific policy and budget recommendations, with a call to triple state funding.
At the time, Wisconsin's $3.3 million in direct spending, compared to Minnesota's $44.3 million and Illinois' $49.5 million, the coalition said.
Meanwhile, then-Lt. Gov. Rebecca Kleefisch, a Republican, embraced homelessness as a priority and Assembly Majority Leader Jim Steineke, R-Kaukauna, led the charge in the Assembly. As part of a set of bills pushed by Steineke and others, the Legislature created the Interagency Council on Homelessness, and former Gov. Scott Walker signed the legislation in late 2017.
Kleefisch chaired the council, which includes the secretaries and directors of eight state agencies and representatives of four consortiums, that serve the homeless in Dane, Milwaukee and Racine counties, and one for the rest of the state.
In November 2018, the council produced a 30-page action plan called, "A Hand and A Home: Foundations for Success," perhaps the state's most coordinated blueprint to prevent and curtail homelessness. It recommended a housing-first approach to homelessness and $3.75 million in new spending annually.
Democrats wanted more, but unanimously supported the council and the action plan.
"It can't be the end," said Rep. Lisa Subeck, D-Madison, who co-sponsored the legislation. "It has to be the beginning."
After taking office, Evers agreed to chair the council — an encouraging sign for advocates — and named Michael Basford, a former associate director of a Madison non-profit housing provider and chairman of the Dane County Democratic Party, as the council's new director.
Early this year, Steineke and Republicans introduced legislation that mirrored recommendations in the council's action plan, and Evers funded the moves in his proposed biennial budget for 2019-20.
It looked like transcendent, bipartisan progress.
But in May, Republicans on the Legislature's Joint Finance Committee blocked the plan. Instead, voting along party lines, members set aside $7.5 million over the next two years for anti-homelessness measures, slightly more than Evers sought, but detached the funding from specific programs.
Now, with winter looming, the Senate is weighing the bills and the finance committee must still give approval before the money can be spent.
Senate Majority Leader Scott Fitzgerald wouldn't commit to passing the legislation, noting only that the measures are making their way through Senate committees.
"Once they're available for scheduling on the floor, we'll have a conversation as a caucus to determine where support is at for individual bills," said Fitzgerald.
If the bills become law, the interagency council should be a generator of policy ideas while lawmakers advance the action plan, and push policies and funding, Steineke said.
The state also must address shortcomings in the council's plan which, while it embraces practices like housing-first and diversion efforts, doesn't offer goals, timelines or responsibilities, advocates say. By contrast, Minnesota's plan has detailed metrics and is updated every two years, with a report on progress.
"That's something we're working on right now," said Basford.
Meanwhile, the state must focus on prevention, permanent supportive housing, and training and jobs, for those who lack skills and employment, Volk said. Direct funding for homelessness should rise to $30 million, he added.
Rep. Melissa Sargent, D-Madison, said she's focused on state laws to provide homeless youth with the resources they need. She said the fact that about 18,000 students in the state are classified as homeless under federal law, is "absolutely egregious."
Evers said his administration is working on homelessness challenges at multiple levels. "I've also tasked all my cabinet secretaries, folks at every agency, to find ways to connect the dots on this issue," he said.