Posted on
Tavern League supports medical equipment loan program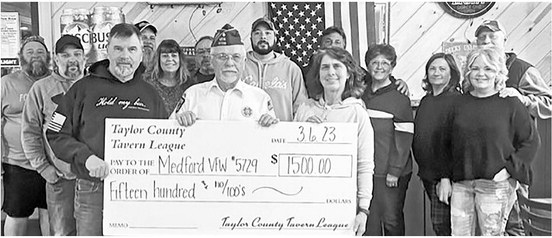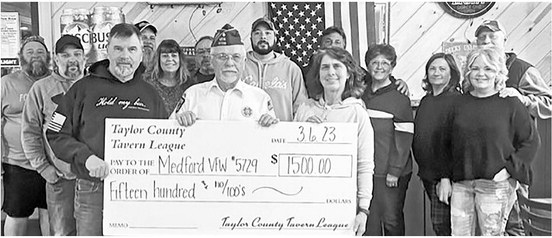 The Medford VFW post recently got a boost from the Taylor County Tavern League to purchase items for the medical equipment loan closet the group operates. Anybody in the area is able to borrow medical equipment for a short-term loan use — 90 days or less. There is no charge for this service.
If a person finds themselves in need of a piece of medical equipment due to an accident or surgical procedure, the VFW is there to serve. Equipment available includes wheelchairs, bath benches, toilet risers, commodes, rotators, walkers, knee scooters, crutches, and canes. Please call the VFW at 715-748-3322, or come to the Medford VFW clubhouse to pick up equipment. The bar is open Tuesday through Saturday at 1 p.m. until closing.
The equipment is signed out by the staff at the VFW. As mentioned earlier, it is intended to be a 90-day or less loan, so if the equipment has not been returned by the term, a representative from the VFW will be calling you to remind you that the 90 days has expired.
While this is a great program to be offered to the community, there are glitches in the program, those being the following: people keep the equipment forever and do not return it and therefore deprives another person from being able to borrow it out. Another example, sadly, is that the user of the borrowed equipment goes to a nursing home or passes away and the remaining family members do not know where to return the borrowed equipment. That is why donations of cash or new or gently used equipment are gladly accepted to restock the inventory of medical equipment. Also, the equipment wears out and it must be replaced periodically so that it is safe to use.
The VFW organization's mission is to serve the community. Vach adds that the "veterans have served and defended their country and they will continue to serve their community with great pride!" Their way to "give back" is to offer the various pieces of medical equipment.