Posted on
KELLY HELDMAN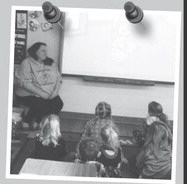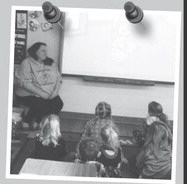 Taylor County Educator of the Month
Kelly teaches Kindergarten at Immanuel Lutheran School. She graduated from Martin Luther College with a bachelor's degree in education in May of 2004. In November of 2004 her first son was born. She decided to step away from teaching to raise her family. It was just 8 years ago that Kelly decided that she was ready for the classroom once again. She has been blessed to be a Christian educator for 8 years. Kelly started in Aurora, Il for 2 years and then in June of 2017 she was called to be the Early Childhood Teacher and teach 3 and 4 year olds at Immanuel Lutheran School. This is her 6th year teaching at Immanuel.
Who was your favorite/best teacher when you were a student and why?
I actually have a few teachers that have made lasting impressions on me. First, my Kindergarten teacher. She was pretty and always wore pretty dresses. She made it a point to connect with me and I always have remembered that. Second was the high School band teachers and guard instructors. I absolutely loved my high school years because of them. Third, a very special college professor who had such a caring and encouraging nature about her. The most important thing I remember about these people is the time they took to build relationships with me.
Why did you choose this profession?
Growing up, teaching was not a profession I thought about. It wasn't until I was out of high school that I thought about teaching. I thought about the teachers I had in the past and that maybe I could make a difference somehow to someone.
Honestly, I never really liked the educational part of school. I felt I wasn't good at it and it wasn't fun. College changed all of that for me. I started digging into things that I was really interested in and now, I love to learn and grow. I feel like if I can be that teacher that loves a student for who they are and for where they are in their educational journey, I can meet their needs and maybe just maybe that will be enough of an impact to stay with them and let them know they are good enough for anything. God made all of us unique and different and for a purpose.
What inspires you to continue as an educator?
My students! They teach me so much. Really! I have a strong passion and desire that my students know their Savior and be the person they were made to be. Every day holds a little magic of what the possibilities could be. In the morning before I turn the lights on I see my classroom as a place where magic happens. I know it's unrealistic to think of turning the classroom light on as the powering on of the rides at Disney World but…I feel that growing brains is just as powerful and exciting.
Sponsored in partnership with: What is your favorite memory as an educator?
I believe that learning should be fun. It should be silly, hands on, singing songs, multi-sensory and dancing. Memories are made daily! In education we celebrate the big and the small milestones. The joys of the "AHA" moments to the first tooth lost, conversations that let me into the students' world outside the classroom, laughter that makes your tummy hurt and tears that roll down your face. Being an educator is more than just teaching in the classroom; it's about embracing the crazy and caring for the people God has blessed you to serve.
130375