Posted on
Holy Rosary students help in fight against cancer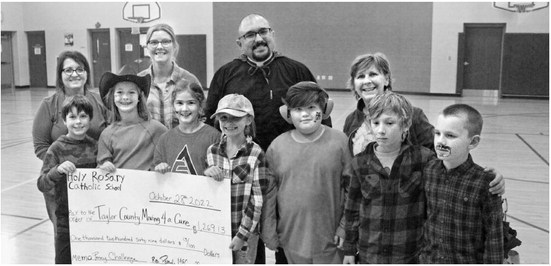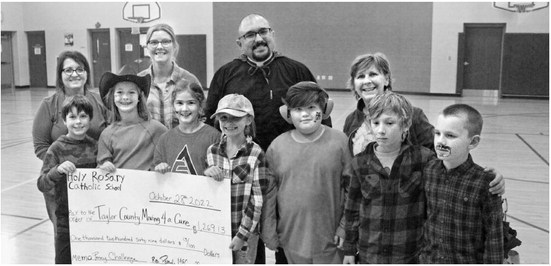 Students at Holy Rosary Catholic School in Medford celebrated Harvest Days on Oct. 28 with games, activities and the culmination of a service project to help community members in their battle with cancer.
The games and activities were organized and run by the sixth grade students at the school with the help of teachers and other staff members.
As part of the weeklong festivities, the students, and their families, participated in a "penny war" competition. Principal Theresa Easterly explained that as with other penny wars, coins donated adds to the total for each grade level while dollars subtracted from the grade's overall score.
She said with the outpouring of support it became a challenge to have classes reach a positive amount. To further encourage donations, Rev. Patrick Mc-Connell, Holy Rosary's pastor, offered to allow the winning class to cut his hair. While the preschool students raised the most money in the event, the third grade class had the highest positive total of points and had the honor of assisting in shaving Rev. McConnell's hair. The actual cutting was done by third grade teacher Stacy Syryczuk, with the help of Rev. McConnell.
A total of $1,269.13 was raised and donated to Taylor County Moving For a Cure. The organization provides a stipend to Taylor County residents who are battling cancer to help with expenses. Application forms for the assistance are available through the Taylor County Health Department located in the ground floor of the courthouse. This is a cause that hits home with the students and staff of Holy Rosary School as one of the staff members is currently battling cancer.
Karen Kropp-Mueller a registered nurse with the Taylor County Health Department and a member of Taylor County Moving For a Cure praised the school children for their efforts noting this would be enough to provide an additional stipend this year.