Posted on
Niskanen joins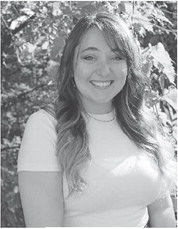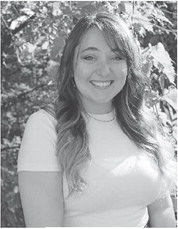 Emily Gojmerac Report er
Kjersten Niskanen is the new Graphic Designer at The Star News.
Daughter of Dexter and Vikki Niskanen of Stratford, and sister to Bjorn Niskanen of Phoenix, AZ, Niskanen has found her place here in Medford.
Growing up on a tree farm in Marshfield, gave her an appreciation for nature and animals from an early age.
She always has had a love of the arts. Niskanen said "What interested me to the job of Graphic Design, was the story telling of the job as well as communicating through images."
She took an art class in college and found herself loving graphic design. So much that she went to UW-Stevens Point earning a Bachelor of Fine Arts degree, emphasizing graphic design. She graduated in 2021.
For four years she worked at Crunchsoft in Marshfield which is a software and technology company. While she was there she helped design software, websites and graphic designs for the company. She helped to get that company off the ground by creating the logo and executing marketing materials, for example booklets, brochures etc.
While she was there, they were planning to buy Quik Print in Spencer, that's where she got into print production and layout. Unfortunately that plan fell through and since then she was always looking for a way she could hone her graphic design skills.
In the meantime, she collaborated with a writer in West Virginia and illustrated a children's book called "Sir Grace and the Big Blizzard" [which is available on Amazon]. She worked on this project during the pandemic and was able to stay busy while staying at home. She did the layout design, the illustrations, and all of the editing with that project.
She does do some freelance work with logos and paintings. If you are interested in checking out her work you can visit her website www.kjerstenniskanen.com. In her spare time she enjoys gardening, cooking Indian and Asian food and acrylic painting. She earned her black belt in Taekwondo from Reis Martial Arts Academy in 2011.
While flipping through the paper, she found and saw the Graphic Designer position posted for The Star News so she applied and got the job.
Through this job she hopes to sharpen her design skills and learn new things.