Posted on
Camper of the Week: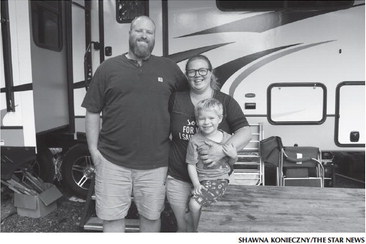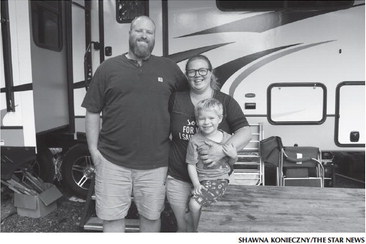 Jessica and Adam McGregor know Lakeview Park better than any other camper. The couple has been staying at Lakeview with their four-year old, Grady, as the campground hosts. This last weekend, they saw a busy weekend at the campground with Rib Lake's Ice Age Days going on. Despite the rainy weather that the weekend saw, the McGregors said that the campground was over half full. This was the family's first time being a campground host, but they have been to a number of different campgrounds and said that they really like everything Lakeview has to offer.
They explained that the campground is very peaceful. Even when it's a busy weekend where a lot of campers are there, it's still a very nice and peaceful place to camp. One of the main reasons why they think Lakeview is such a nice place to camp is because there's enough open space in each site that campers can be parked in any direction and that it's easy to pull campers in and out of sites. This makes Lakeview a large group friendly campground. They also like that all the trees around provide excellent shade to the sites. They said that the campground is well taken care of and that the playground gets used a lot and is a great place for children to go and play.
Over the weekend, the McGregors enjoyed some of the festivities at Ice Age Days. They went to the quilt show, watched the bean bags tournament, and got fair food. Adam is originally from Muskego near Milwaukee and Jessica is from Michigan. They spend a lot of time traveling and have been to a wide range of places, including Arizona. The family is hoping to return next year to Lakeview as they really enjoy the campground and recommend it to others.
Lakeview Park has 27 campsites available for both campers and tents. All sites have water and electricity hook-ups, and there are volleyball nets, horseshoe pits, and a playground for visitors to utilize. Located on Park Row near Rib Lake, the campground gives easy access to Rib Lake's boat landing and fishing docks.