Posted on
Camper of the Week: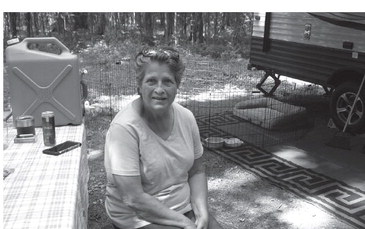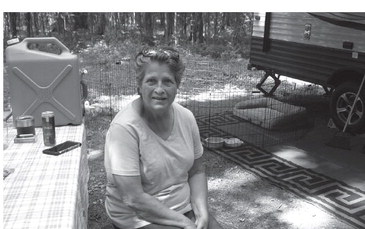 Traveling all the way from Virginia, Jean Bedwell found herself at the Chippewa Campground from Thursday, July 15 to Tuesday, July 20. Accompanied by Jeff Bedwell, the 62-year-old has been traveling across the country since her retirement.
Bedwell retired in May and then sold her house and many of her belongings before packing up everything into her camper and starting on this next life adventure. They left Virginia at the beginning of June and have been traveling from campground to campground every four to five days. Bedwell explained that they have been staying at National Forest campgrounds and U.S. Army Corps of Engineers campsites thanks to their America the Beautiful pass that gives them access to all the national parks and recreation sites for an annual fee. This is what brought them to the Chippewa Campground, which is located in the Chequamegon- Nicolet National Forest. Bedwell said that she really liked the campground. Their site had access to the water and provided enough space for their camper, vehicles, as well as their two dogs, Luna and Eli, that they brought with them.
The Bedwells started their trip in North Carolina, where they stayed a number of places including Phelps Lake, North Carolina's second largest natural lake. From there, they traveled to Kentucky, then to Indiana, and Illinois, before finally arriving in Wisconsin. The spent about two weeks total in Wisconsin. Before coming to the Chippewa Campground, they were staying at campgrounds in the southern part of the state, including the Grant River Recreation Area in Potosi and Blackhawk Park in De Soto, both U.S. Army Corps of Engineers campgrounds.
Once they depart Wisconsin, Bedwell said that they'll either be heading to the Hiawatha National Forest in Michigan's Upper Peninsula or over near Lake Superior in Minnesota. One of their goals is to be in southern Arizona by the time winter comes. Before then, they are thinking about going to Montana and other places in the western part of the country. Bedwell said that she enjoys that they have been taking their time with their travels. She also said that everyone she's interacted with in Northern Wisconsin has been very friendly.
The Chippewa Campground is located in the Chequamegon-Nicolet National Forest along the eastern shores of the Chequamegon Waters Flowage. The campground offers 78 campsites that are organized into multiple loops. Each site has a picnic table and a campfire ring with a grill. Accessible flush toilets and showers are available in three of the campground's loops.