Posted on
Camper of the W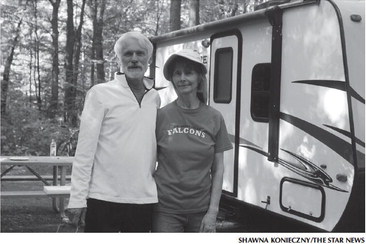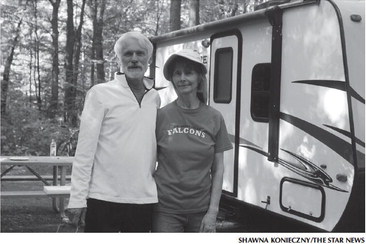 From July 9 to July 11, nature-lovers Jean and David Wright of Edgar spent their weekend at Spearhead Point Campground on the Mondeaux Flowage. Jean, who is originally from Alaska, and David, originally from upstate New York, have lived in Wisconsin since 1996. They are frequent visitors to the state forests throughout the state. This was their second time camping at Spearhead Point, even though they've been hiking in the Chequamegon-Nicolet National Forest a couple times before. The couple spent their time hiking, kayaking, and biking. They were amazed by the scenery and really enjoyed the hiking trails there.
David explained that the beauty of the area is something that's difficult to grasp unless one sees it themselves. He was in awe by the unique landscape and the nature of the area and by the ridges left behind by glaciers. He said that the sunset on the lake was a sight to be seen. "It's the most magical thing," said David.
When it came to the campground itself, David said that their site was very level and that there was essentially no bugs. Jean appreciated that there were trees surrounding each site, giving campers privacy. She said that is one of the benefi ts of the state and national campgrounds as opposed to other campgrounds.
Spearhead Point Campground is located in the Mondeaux Dam Recreation Area in the Chequamegon-Nicolet National Forest. There are 27 available campsites that include a parking spur, a campfire ring with a grill, a picnic table, vault toilets and drinking water. There is also boat access to the Mondeaux Flowage and some sites even have a small dock. Sites have to be reserved and can be done so at recreation.gov.