Posted on
Seeking closure for Chloe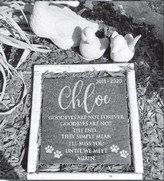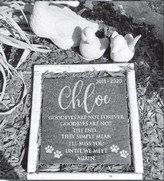 A Medford couple is seeking the community's help in getting closure after their dog was killed by a driver on July 6. According to Jan Rodgers of Medford, her husband John was out walking his dog, Chloe, between 5:30 and 6 a.m. on Monday, July 6. John walks with a cane after suffering a stroke about seven years ago and Chloe was his regular walking companion.
They were heading from their home on the corner of Shattuck St. and Allman St. toward the park and were a few houses from Second St. As they were were walking a newer dark colored pick-up truck that was heading westbound crossed the road, jumped the curb and hit Chloe killing her instantly. Chloe had been in the grass between the sidewalk and the road. The driver narrowly missed John who was only a few feet away.
"It was quite traumatic," Jan said, describing how the dog was flipped in the air and killed.
John called 9-1-1 and Medford police officer Sarah Thums responded quickly. "She was very nice and very helpful," Jan said, expressing her thanks to the officer for her efforts. "You were so kind and helpful. We really appreciate your kindness," Jan said of Thums. A sheriff's deputy also responded and attempted to locate the truck, but by that point too much time had gone by and the driver could not be found.
Chloe held a special place in Jan and John's hearts. They had gotten Chloe shortly after John got out of the hospital from his stroke and the yorkie mix breed had been a constant companion ever since. Jan says Chloe was the best dog they ever had.
"Chloe was just a wonderful little dog," she said.
While they know that nothing can bring Chloe back, Jan and John are looking for the community's help with closure, and explanation of why it happened. She noted that the driver may not have even realized that they had killed Chloe since the individual did not race away from the scene. "For me, it is why did this person cross the road?" Jan said, suggesting that given the time of day, they may have dozed off while driving. Understanding how it happened she said would help with closure.
"This is a great loss to both of us. But we need closure. If you are the driver of that truck or you have any information on the incident, please contact officer Thums of the Medford Police Department. An apology and explanation of how and why this happened would really help us," Jan said.