Posted on
Marathon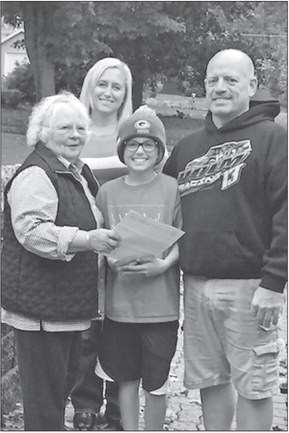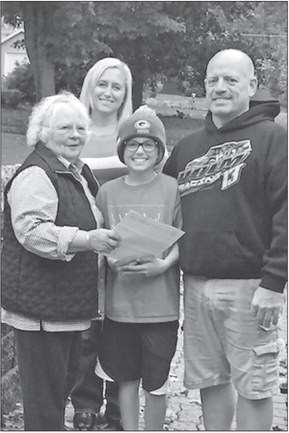 COMMUNITY LIVING
Send Marathon news to: RR@tpprinting.com phone: 715-223-2342 fax: 715-223-3505 P.O. Box 677 103 West Spruce Street Abbotsford, WI 54405 History speaks
The Marathon County Historical Society is continuing its History Speaks lecture series over the internet. Presented in conjunction with the Marathon County Public Library, these talks will be streamed to the MCHS Facebook page and YouTube Channel and made available online afterwards as well.
On Halloween (Saturday, Oct. 31) at 2 p.m., Kathy Volkmann will present "At Rest: Death and Mourning Customs. "This presentation provides a peek into the lives of those who mourned and those who cared for the dead, spanning approximately 1850 to 1950. Viewers will learn about the social history of how our ancestors dealt with death and mourning, and how some of those traditions appear in modern times. The program will include items from Volkmann's personal collection of death and funeral memorabilia, including casket plates, advertising items and memorial photos depicting babies, children and adults after death.
Kathy Volkmann is Curator of Artifacts at the Historical Society. She has an interest in items related to death memorialization and funerals, and enjoys learning about how society has mourned and celebrated the lives of those who have died.
For more information, call the Marathon County Historical Society at 715-842-5750 and leave a message, or email the society at info@marathoncountyhistory. org. For more information about the Marathon County Public Library, visit its website at www. mcpl.us.
Heirloom plants
The Marathon County Public Library will offer a free, virtual class taught by UWExtension Marathon County on the history and importance of heirloom plants.
In this interactive online program, participants will hear the backstory of some of the favorite heirloom varieties, including a local favorite, the Beaver Dam pepper. After learning the cultural and economic significance these plants have served historically, the class will discuss the differences between the terms heirloom, hybrid, open pollinated and GMO (or genetically modified organism.) This class, led by Extension Horticulture Educator Janell Wehr, is open to the public and registration is required by noon on Wednesday, Nov. 11. To register, email janell. wehr@wisc.edu. The Zoom class sessions will be Monday, Nov. 9, 2-3 p.m., Tuesday, Nov. 10, 6-7 p.m. and Thursday, Nov. 12, 2:30 p.m. to 3:30 p.m.
Kids and Teens
Celebrate November is Picture Book Month with a recycled book project available in a convenient take-home kit at the Marathon City Branch Public Library.
Children, tweens, and teens can pick up accordion-style notebooks made from recycled materials. The covers of these notebooks were made using pages from discarded picture books. All you have to do is glue the covers to the inside pages. The pages are blank and can be used to write stories, poems or draw pictures.
Snowmobile safety
The Rib Riders Snowmobile Club will offer a snowmobile safety course in Marathon City Saturday and Sunday, Nov. 14 - 15, 12 p.m. to 4:30 p.m. at the Marathon City Fire Department. The course will be limited to 20 students. The course will be taught by two certified snowmobile safety instructors, Jini Ruplinger and Edee Zuleger.
Any person who is at least 12 years old and who is born on or after Jan. 1, 1985, is required to possess a valid snowmobile safety certificate in order to operate a snowmobile on public trails, lands or frozen waters. All snowmobilers under age 16 must obtain certification in a classroom certification course. Internet certification is only available to persons 16 years of age and up.
Encouragement
Patrons of all ages at the Marathon Branch Public Library are welcome to pick up supplies for making cards of thanks and encouragement for health care workers through Oct. 30. Drop off the cards of thanks and library staff will do the rest.
Silent retreat
St. Anthony's Spirituality Center, Marathon City, will offer a silent theme retreat, "Separating the Wheat from the Chaff in Our Lives," on Friday through Sunday, Nov. 13-15. The presenters will be Lee Ann Niebuhr, Rita Simon, Elizabeth Schussler and Deacon Mike Harvey. The session will be limited to 21 participants.
Guests will be asked to wear a mask or face covering in common areas except at mealtimes.