Posted on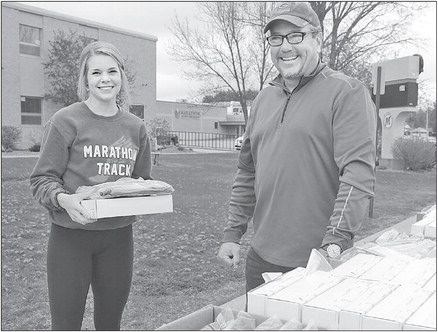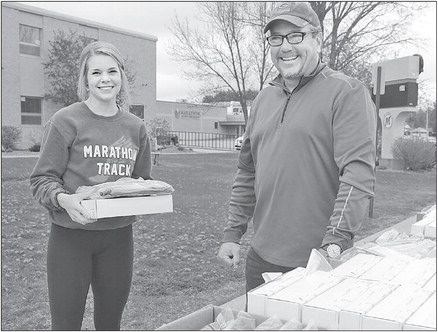 Send Marathon news to: [email protected] phone: 715-223-2342 fax: 715-223-3505 P.O. Box 677 103 West Spruce Street Abbotsford, WI 54405 Snowmobile friendly
The Association of Wisconsin Snowmobile Clubs (AWSC) has announced Marathon City is one of eight Wisconsin Communities designated as a "Snowmobile Friendly Community." The AWSC normally announces the Snowmobile Friendly Community Awards during its annual spring convention, but COVID-19 forced a cancellation of this state-wide convention for over 600 snowmobilers representing all 72 Wisconsin counties.
Marathon City achieved its Snowmobile Friendly status by working with the Rib Riders Snowmobile Club to complete a 21-page application describing how they advocate for safe and responsible snowmobiling in their area. All SFC winners are awarded reflective, highvisibility, 24" x 36" highway signs to let all visitors know they are entering a "Snowmobile Friendly Community."
Created through a partnership between the AWSC and the Wisconsin Department of Tourism, a statewide evaluation panel includes a tourism professional to ensure the program accurately identifi es which communities and snowmobile clubs are "best" at welcoming, preserving, and providing snowmobile access, support, and services for snowmobilers. The Snowmobile Friendly Community Award/Designa- tion is a four-year term and communities may reapply for subsequent awards.
Although cancelled by the pandemic, the AWSC's spring convention serves as the final major snowmobiling event for the 610 Wisconsin Snowmobile Clubs who create and maintain over 24,000 miles of public snowmobile trails connecting all 72 Wisconsin counties.
New deacon
St. Mary's Catholic Church, Marathon, has announced that Gordy Ruplinger will become a permanent deacon within the Diocese of La Crosse on Tuesday, May 23.
Masses planned
Bishop of La Crosse the Most Rev. William Callahan has informed local churches that public celebration of Mass could happen as early on Sunday, May 31, if a number of conditions are met to fight the COVID-19 pandemic.
The bishop said church services could be scheduled if church ushers are trained to ensure proper social distance of six to eight feet between individuals, that there be adequate supplies of sanitizer and other disinfectants and that people occupy only 25 percent of church seating.
The bishop said a lack of proper disinfectants and hand sanitizer is a problem and "will greatly limit our efforts."
The bishop recommended parishioners over age 65 continue not to attend church in person.
He said that he is "deeply frightened by the disease" and suspending church services is part of a pro-life perspective that values human dignity.
Bishop Callahan said he has had critics tell him that he is a "puppet of the state" and not an agent of the church for continuing to suspend church services after a Wisconsin Supreme Court ruling invalidated Safer at Home rules for mass gatherings.
"Dear brothers and sisters, all I can tell you is that I can only say I am doing my best and I will continue to love you and pray for you," he said.
Birth
A daughter, Josie Lynn, was born May 14, 2020, to Jennifer and Eric Pringle, Wausau, at the Aspirus Wausau Hospital. The infant weighed six pounds, three ounces.
Memorial Day
The American Legion Post 469 has announced its honor detail will hold Memorial Day services at local cemeteries to honor veterans.
The schedule of services is as follows: 7:45 a.m., Heil Cemetery, town of Emmet; 8 a.m., Sacred Heart cemetery, town of Cassel; 8:20 a.m., St., Anthony Retreat Center, Marathon; 8:35 a.m., Spring Valley cemetery, town of Stettin; 9 a.m., Zion Lutheran cemetery, town of Stettin; 9:10 a.m., Redetzke cemetery, town of Stettin; 9:20 a.m., Emmanuel cemetery, town of Rib Falls; 9:30 a.m., Methodist cemetery, town of Rib Falls; 9:40 a.m.; Hillside cemetery, town of Rib Falls; 9:55 a.m., St. John's cemetery, Rib Falls; 10:05 a.m., Rib River Bridge, STH 107; 10:20 a.m., Marathon cemeteries.