Posted on
Holiday lights and sounds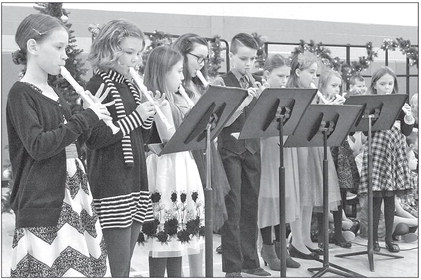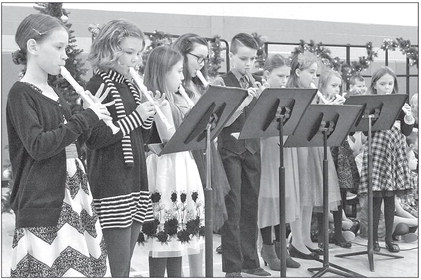 Send Marathon news to: [email protected] phone: 715-223-2342 fax: 715-223-3505 P.O. Box 677 103 West Spruce Street Abbotsford, WI 54405 Holly Day
The Marathon Area Business Association will host Holly Day Saturday, Dec. 14, at St. Anthony Spirituality Center, Marathon.
The event will feature a hotdog supper and chili cook-off, holiday music performed by the Marathon High School band and choir, a Live Nativity, holiday crafts and face painting.
The event is free and open to the public.
Food drive
The Arrow Tap, Marathon, will hold its fourth annual Circle of Joy Food Drive through Tuesday, Dec. 31.
Donations of non-perishable food, toiletries, and monetary donations for local families will be appreciated.
The donations will be presented to the Edgar/Marathon Circle of Joy in early January.
Youth Group caroling
Youth at St. Matthew's Church, Marathon, will meet Sunday, Dec. 15, 5 p.m. to go caroling in Marathon. Anyone wishing for carolers, contact Bruce Hintz, Jr. at 715-6935400. After caroling, the youth group will return to church for a game of bingo and hot chocolate.
Christmas cantata
St. Mary's Church, Marathon, invites the public to attend a Christmas cantata on Sunday, Dec. 15, at noon. The no-charge performance will last 30 minutes.
Trip support
Kurt-n-Jo's Restaurant in Marathon City has offered to host "Washington Wednesdays" in support of a Marathon Venture Academy trip to Washington, D.C.
Kurt-n-Jo's will donate 10 percent of Wednesday sales (dine-in, take-out, and ice cream) from 4-8 p.m. to the student trip. The fundraiser will last through Wednesday, Feb. 26, 2020.
Above, a Marathon Area Elementary School (MAES) recorder choir performs "Sing In the Holidays" during a 2019 winter program held Thursday at the Marathon High School gym. At left, the MAES third graders perform "What's In That Stocking?" for family and friends.
People's State Bank, Marathon, will again host a a Circle of Joy Christmas "Giving Tree."
PeoplewishingtogiveChristmas presents to needy children can review ornaments on the tree stating children's ages and wish lists. To give a gift, people need to pick a name. All gifts are to be wrapped and returned to the bank tree no later than Thursday, Dec. 12.