Posted on
Lieutenant Governor Barnes makes Nov. 25 stop in Granton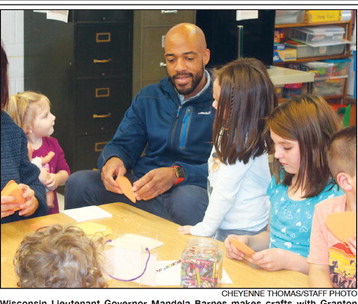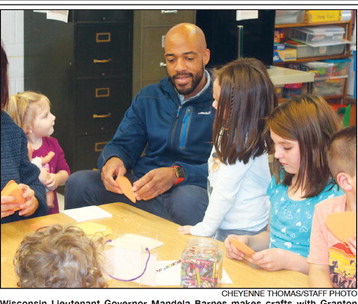 Wisconsin Lieutenant Governor Mandela Barnes visited the Granton Area School District on the afternoon of Nov. 25 to talk about recent developments at the school and their concerns about certain policies. The Lieutenant Governor toured the school for more than an hour, speaking with the leaders of certain projects and the administration about the work done at the school.
"We were in the area," said Barnes. "We do a lot of school visits. That's the policy of this administration, to talk to them and get concerns and developments."
While at the school, Barnes toured several locations on the grounds including the school forest behind the school building, the remodeled pool area, and the childcare center. In each part of the tour, Barnes was told how each area was created and how it continues to be operated. Each area was unique, he said in retrospect, but the Lieutenant Governor was most impressed by the school forest. "It was very fun. The way it's made to attract the public with the haunted forest was very cool," he said. "The teamwork, community involvement, the cost was the most impressive. People pitched in to make it work."
By visiting one of Clark County's rural districts, Barnes said he was able to see some of the challenges they face firsthand, but also the unique ways the schools adapt and find ways to thrive. These will be some of the things he will take back to Madison with him as the administration of Gov. Tony Evers works out how to best serve the educational needs of Wisconsin for all its residents.
"A rural school in lower population communities can be a huge advantage and have unique opportunities that you can't find in more populated school districts," Barnes said. "The governor in his proposed budget wanted to bring back two-thirds funding, the joint force committee unfortunately didn't pass it. You hate to see it."
CHEYENNE THOMAS/STAFF PHOTO