Posted on
Mission flight an honor for Holcombe Vietnam veteran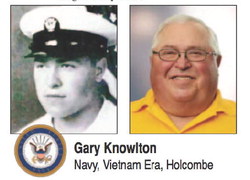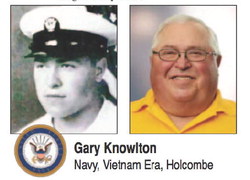 By Luke Klink, Ladysmith News
A Holcombe resident will never forget the reception he received, upon landing at the airport, after a recent Honor Flight – hearing the band play, shaking countless hands, receiving hug after hug, and fighting back tears the entire time. It wasn't this way when Gary Knowlton returned from Vietnam, after serving in the Navy on the USS Kitty Hawk, from 1975-79.
Then, few cared, with little fanfare for members of the Armed Forces returning to the states. This time, his welcome home was completely different.
"What an awesome, awesome, awesome experience," said Knowlton, who was an E5 Second Class Petty Officer, when he was honorably discharged from the military more than four decades ago.
Knowlton was on the most recent Never Forgotten Honor Flight that flies regionally out of Central Wisconsin Airport in Mosinee, Rusk, Taylor, Marathon, Langlade, Lincoln, Oneida, Portage, Vilas and Wood counties.
The Never Forgotten Honor Flight is a Wausau-based organization, formed in November of 2009. It flies veterans who served during World War II, the Korean War or Vietnam eras, for free, to Washington, D.C., to visit the memorials built in their honor. It is an affiliate of the national group Honor Flight Network, launched in 2005, and began flying with commercial charter aircraft in 2006, from Dayton, Ohio.
Veterans receive a free, round-trip flight and guardians pay $500 for the opportunity to accompany one, two or three veterans on the trip. Veterans and guardians interested in taking a future Honor Flight, must complete an application at neverforgottenhonorflight. com or contact the organization at 715-573-8519.
The veterans are selected based upon the order in which their applications are received and the conflict they served in. Preference is given to World War II veterans, then Korea veterans and Vietnam era veterans. Veterans who are terminally ill, regardless of when they served in those three eras, are given top preference.
Guardians should be 18-69 years old and able to lend physical assistance to the veterans. Completed applications for veterans and guardians also can be mailed to: Never Forgotten Honor Flight, 225780 Rib Mountain Dr. #234, Wausau, WI 54401.
Knowlton signed up for the flight on the urging of a friend.
It was a different era when Knowlton returned from service after the Vietnam War. He said people were "not very proud of the military in the 1970s."
"We didn't get the best welcome," said Knowlton, who served as a jet engine mechanic.
He remembers earning 17 cents extra, per hour, for hazardous duty pay, while working on the aircraft carrier flight deck.
There were 108 area veterans, accompanied by 63 guardians, on the one-day round trip, that departed June 6, from Central Wisconsin Airport. They took off at about 6:30 a.m., and landed at about 10 p.m.
This was the 40th flight since the first Never Forgotten Honor Flight took place April 27, 2010. The Never Forgotten Honor Flight Hub has so far flown 3,777 veterans, including 1,045 from World War II, 1,227 from the Korean War and 1,505 from the Vietnam War. There have also been 2,281 participating guardians.
Its mission is to celebrate America's veterans, by inviting them to share in a day of respect, gratitude and honor, at the nation's memorials.
Knowlton called it "an honor" to have his daughter, Sherry Meyer, serve as his guardian on the Honor Flight mission.
In Washington, the group visited Arlington National Cemetery, Roosevelt Memorial, Lincoln Memorial, World War II Memorial, Korean War Memorial, Vietnam War Memorial, Air Force Memorial and the Tomb of the Unknown Soldier.
On the flight home, the lights inside the plane switched on. It was time for Mail Call.
Mail Call is a special surprise for the veterans who fly on an Honor Flight mission. Mail Call is made up of cards and letters from family, friends and neighbors, expressing their appreciation and thanks. It is a nostalgic throwback to when the veteran was deployed, many decades ago.
Knowlton received letters from throughout the community, including Holcombe and Cornell. Grandchildren wrote. Cookies were passed around.
"There were a lot of tears on that plane," Knowlton admitted.
The experience gave Knowlton an overwhelming sense of pride. "It let me know there are a lot of good people out there," he said.
The public was invited to the airport, to welcome the veterans home and did they. Knowton estimated there were 2,000 people packed into the airport on a school night and a work night, to welcome home the returning veterans.
"There were a lot of people," said Knowlton.
Cameras clicked. Cell phones recorded video. Music trumpeted their return.
"I shook so many hands," said Knowlton. "Every single person welcomed us back and thanked us for our service."
People from all walks of life were there, from elementary students to biker groups.
"It was the coolest thing, for that many people to honor veterans for what we did," said Knowlton. "I was overwhelmed."
Each veteran was thanked and each one got cards handed to them by area elementary school children. Knowlton called the planning and attention to the details amazing. He said he would go again tomorrow, if they allowed him to sign up.
"It is one of those things you will always remember," said Knowlton. "I will never forget the experience."
[caption id="" align="alignnone" width="366"]
Gary Knowlton, Holcombe, stands with his daughter, Sherry Meyer, Medford, near a bronze statue of Eleanor Roosevelt, as part of the Never Forgotten Honor Flight mission June 6. Knowlton was among 108 veterans, accompanied by 63 guardians on the regional organization's 40th flight since its first Never Forgotten Honor Flight took place April 27, 2010. Submitted Photo[/caption]