Posted on
Get the shakedown on Stacker Nutrition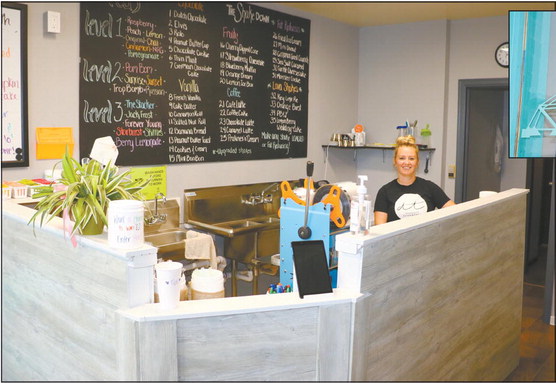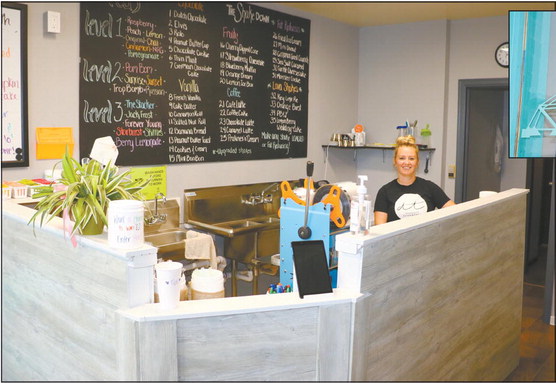 By Ginna Young
As evidenced by a lack of parking during business hours, Stacker Nutrition at 305 Main Street, has been a popular addition to Cornell. Owned by Phylicia Smith, the health drink center is located in what served as a barber shop for many years.
Smith, a 2007 Cornell High School graduate, previously lived in Chippewa Falls, but after leasing the shop in her hometown, she and her three kids moved above the business. Acting as a distributor for Herbalife products, Smith distributed the products as a part-time gig.
Then, the beginning of this year, the head of the Herbalife organization asked people where they would like to see the next nutrition club and many of the responses named Cornell.
"I was like, heck, if somebody gets that town before I do, I'm just going to kick myself," said Smith.
Smith wanted to be her own boss and was excited to move back home. For now, she signed a lease for her home and shop, and will see what the future holds.
"I thought about buying it, but it's just a lot to invest right now," said Smith. "Maybe in the future."
It took about a month to get things set up for a threecompartment sink, hand washing sink and service bar, with a grand opening held the first part of March. Smith also gave the walls a freshener of paint and brought blue accents farther into the shop from the trim outside.
"I just kind of wanted it to be like…somewhere where people can come in and feel at home," said Smith.
At the grand opening, Smith was blown away by sales, selling almost 100 drinks that day. She says a lot of people from where she used to work, came in support of the venture.
"There were a lot of new people from here in town, too," said Smith.
The shakes offered are complete meal replacements, with 24 grams of protein, made of 98 percent actual products and not filler.
"So, it just brings you really good nutrition, low calorie intakes," said Smith.
Smith said if people are interested, the business can help with a healthy lifestyle change or set up a meal plan. The shakes and teas help with weight loss, management or gain.
The teas consist of herbal concentrate, which hydrate the body naturally. The most popular is Jack Frost, which is blue raspberry lemonade with energy booster.
"If you have those midday slumps, it definitely gets you through," said Smith.
Other flavors include the stacker (lemon and lime blue raspberry), peach, pomegranate, raspberry, Starburst and Skittles. Smith said she hasn't had too many weird combination requests, but wouldn't shy away from the challenge.
"It's fun to see what we can make," she said. "You can really try almost anything out of these."
As for the shakes, hands down, the cherry dipped cone is the favorite. Other flavors include orange dream, lemon ice box coffee, fried ice cream, sea salt caramel and strawberry cheesecake.
Something people might not expect, is that teas can be ordered cold or hot.
"You can even do the shakes hot, it's just a matter of your preference," said Smith.
It only takes a couple minutes to make a drink when someone orders, but for advanced orders, Smith asks for up to 30 minutes to have the order ready to go. People can call in orders or message through social media, however, there is no delivery.
The shop is open from 7 a.m. to 2 p.m., Monday through Friday, and Smith can be reached at 715-239-2060. Those interested in fixing their own shakes or teas at home, can also speak to Smith about ordering products.
Smith said she enjoys the experience of living in a small town again and says customers appreciate that she can remember what their favorites are.
"Everybody's just backed me so much," said Smith. "I really think I picked the right community to come back to."
Cutline: Phylicia Smith stands ready to welcome customers to Stacker Nutrition, at her shop on Cornell's Main Street. The Herbalife distributor is open weekdays, to whip up shakes and teas for a healthier lifestyle, or for those who just like a good-tasting drink. Photos by Ginna Young