Posted on
Stacker City Farms brings garden produce to Cornell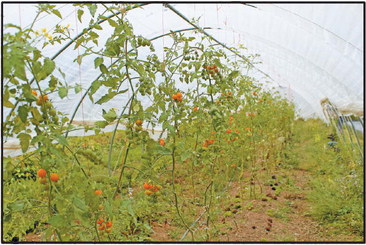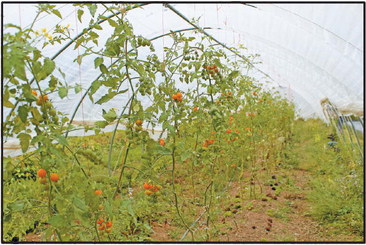 By Julia Wolf
Stacker City Farms is working to bring the products of a simpler lifestyle to the community, at an affordable price.
Owners of Stacker City Farms, Bianca and Levi Jordan, grow garden produce and also do some foraging. Both Bianca and Levi went to school in Cornell, with Bianca born and raised in the area. They left for a while, but the beauty of the Cornell area, brought them back.
Bianca says the desire for a more simplistic lifestyle, and the ability to be their own boss, drew them into farming.
"We tried to do this three years ago," said Bianca, adding that they had a larger piece of land off State Hwy. 64. "We had planned to go much bigger."
Bianca says plans changed and they decided to take some time off to focus on their education, instead.
"We took a master gardener's course," said Bianca. "We spent ample amounts of time on YouTube."
Now, the couple has a farm, located in Cornell on the corner of Woodside Drive and Industrial Park Drive, with a 5,000-square foot shop on the property for any canning they need to do. Their first sale took place May 15.
"First and foremost, we are a market garden," said Bianca.
Levi says their goal is to make locally grown and healthy food available to the community. Bianca says they also wild forage for some things.
"I just found wild mint on our property," said Bianca, adding she is drying the herb for people to add to their teas or other dishes.
She says she will also wild forage mushrooms, if she can find enough.
"And I'm also cultivating gourmet mushrooms," said Bianca. "I took a mushroom course up in Canada, about three years ago, on small business, commercial gourmet mushroom farming."
She says she plans on starting some shiitake mushrooms soon.
At the farm, they have an indoor nursery they used to start their seeds this year, a commercial wash station, walk-in coolers and a farm store. Bianca says eggs are coming soon, as well, with poultry raised using rotational grazing techshe tech- niques.
"We're also raising rabbits," said Bianca, which are also pasture raised.
There is also a garden area, which is about 1/8 of an acre. Levi and Bianca grow a variety of garden produce, including carrots, tomatoes, peppers, onions and radishes. They also accept compost from people, to prevent food waste.
"That's the only thing we put on our garden, as far as any sort of additions, is our composting," said Bianca.
No chemicals or growth hormones are used on the farm products.
The farm also has a focus in biodiversity, which helps reduce pests. Levi says they aren't even using tractors, only hand and battery operated tools, for now.
They have also frequented the farmers market in Cornell, offering their produce, as well as value-added products and baked goods, made with seasonal produce. Bianca also says she does jams and spreads to sell, since she does them for themselves anyway. She says she has enjoyed listening to the feedback from customers and having conversations with them, as they come by Stacker City's booth.
Anything that doesn't sell at the farmers market, is brought back to the farm store to sell.
At some point, Bianca says they would like to hold education courses. She says their belief is that food education should be free.
"Everyone should know how to grow their own food," said Bianca.
She says they have also enjoyed learning how different things grow, such as indeterminate tomato varieties, which she says have gotten as tall as she is. Bianca says she has also gotten peppers to germinate this year, something she has not had luck with in the past.
Levi says they would also like to organize farm tour days sometime in the future.
Bianca says a big part of the reason they decided to start a farm is their family. The couple is raising two young children, Cooper, 6, and Harrison, 4.
"They are going to be growing up knowing how to grow food," said Bianca.
They say their grandmother, Susan Jensen, has been one of their big- biggest supporters from the start.
While it has taken them a while to get where they are, Bianca and Levi say it will be worth it in the end.
One of the newer things the business offers, is the ability for customers to pay for their goods electronically, with Venmo or Cash App, at the farmers market and their farm store.
Bianca says she has started albums on social media, for people to share preservation and recipe ideas for the produce grown. She says she also plans to print some of them off, so people can take pictures of the information at the farmers market, if they don't have access to social media.
Levi says the farm store is self-serve and they hope to add more goods to the store as the business grows. The store is open 8 a.m. to 8 p.m., seven days a week, though people are encouraged to check for changes to the hours before going.
[caption id="attachment_88615" align="alignnone" width="300"]
Levi and Bianca Jordan began Stacker City Farms to offer locally grown produce to the Cornell community. Besides their market garden produce, they also forage for some foods, and are rasing egg-laying chickens and rabbits. Photo by Julia Wolf[/caption] [caption id="" align="alignnone" width="242"]
Stacker City Farms, located on the corner of Woodside Drive and Industrial Park Drive, has a farm store, as well as a commercial wash station. In the future, owners Bianca and Levi Jordan, hope to offer educational opportunities for people to learn about growing and preserving their own food. Photo by Julia Wolf[/caption]