Posted on
Drillings go organic for environment and local economy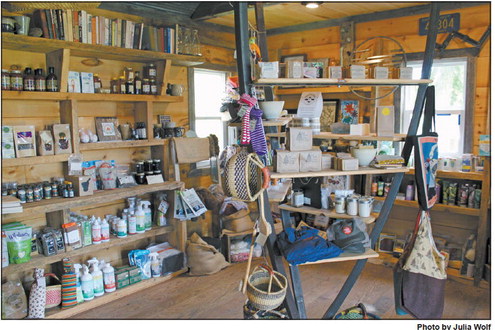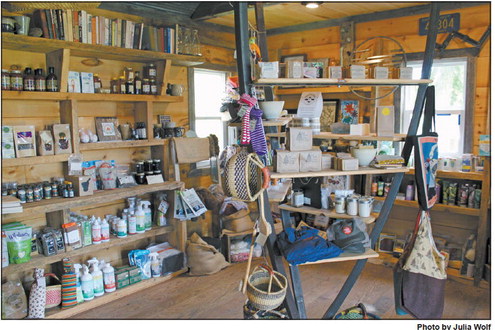 What started as a way to direct market their own products, has turned into an outlet for over 20 local vendors to sell their goods.
Harvest Moon Organics, southwest of Cadott, is owned by Emily and Andrew Drilling. The certified organic farm is named after a Neil Young song.
"Our farm slogan is taken from a Neil Young song, too," said Andrew, of the phrase "Farmin' in the Free World" emblazoned across their farm sign and website.
The farm is also home to a store, the Old Laughing Lady General Store (you guessed it, named after a Neil Young song).
"What we do here, is we sell our certified organic meat," said Emily.
The store turned into an outlet for other local businesses, with products like honey, popcorn, salsa and maple syrup.
"So, we just try to support as many local farms as we can," said Emily, adding carrying products from other farms has been a great way to connect with people.
While the couple has been farming for 10 years, the store first opened in November 2018.
"We spent the first few years just fixing the place," said Andrew, adding the barn, garage, siding and fencing all needed extensive work, and that it took nearly four years to make the repairs.
They say the fourth-generation, family-owned farm is still a work in progress.
"There was a lot to clean up," said Emily.
In 2017, the first 40 acres were certified as organic and another 60 were certified this year. Andrew says it wasn't bad getting the 40 acres certified as organic, because it had always been a pasture.
"But with the 60, we had just bought it three years ago, too," said Andrew. "That had been in a GMO (genetically modified organism) corn and soy rotation for over 20 years."
Emily says it is important to "keep it local" to keep the area thriving, especially in small, rural communities like Cadott. Andrew says much of the food Americans consume is from giant corporations, whereas small, local farms keep the money in the community.
"That's kind of...one of the biggest reasons why we got certified organic, or why, I guess, I believe in organic," said Andrew. "It has the potential to bring back small farms."
Andrew says they are working at building fence on the 60acre section and plan to pasture their cows out there soon.
"There's always going to be something that can be done or improved," said Andrew of the farm.
The 100-acre farm is home to about 20 head of Scottish Highlander and Hereford beef cattle, about 25 pigs and some turkeys. They also plan to do about 750 meat chickens this year.
All the animals are pasture raised. The pigs do get some grain, but no soy or corn. The pigs raised at Harvest Moon Organics are Mangalitsa crosses, which are higher in omegas.
"They produce more unsaturated fat than a typical breed," said Andrew, of the breed of pigs. "Their fat is more in line with salmon and avocado."
The chickens also get some grain.
"Our beef are strictly grass-fed," said Andrew.
Andrew says they would like to butcher their own animals, but there are a lot of regulations surrounding that.
Andrew also says they would like to get a certified kitchen started on the farm.
"We want to do some wheat and we want to be able to package it up," said Andrew.
He says they would also like to start offering ferments and preserves, which also require a certified kitchen.
"We're trying to get this store to the point where we have a lot more of our stuff in it," said Andrew, adding they would like to make flour and offer fresh produce.
For now, they offer eggs, pork and chicken, with beef coming soon. Emily also makes a homemade soap using the lard from their pigs, as well as candles.
"I just like the connection that you have to your food, then," said Emily. "You know where it came from. You can feel good feeding it to your kids."
The store, located at 2722 220th Street, Cadott, is open Saturdays and Sundays, 10 a.m. to 5 p.m., and Monday through Friday, 5 p.m. to 8 p.m. Those who would like more information can call 715-450-3507.
The Old Laughing Lady General Store, southwest of Cadott, carries products from Harvest Moon Organics and over 20 local vendors. Goods such as certified organic meat, honey and maple syrup are available for purchase at the store. Photo by Julia Wolf