Posted on
Bells share 65 years of memories together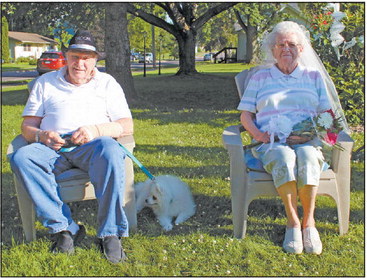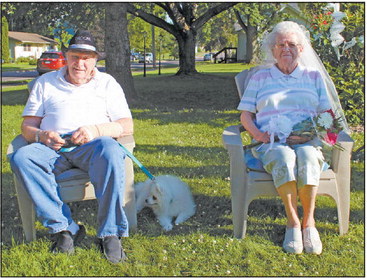 Family and friends drove by Eugene and Ann Bell's Cadott residence, July 17, as they offered well-wishes to the couple celebrating 65 years of marriage.
"Well, we went to high school together," said Ann, "but I was a lowly little freshman and he was a hotshot senior that wouldn't have looked twice at me."
"I didn't know you were there," said Eugene.
It wasn't until a few years after high school that the couple began dating, after Eugene served in the Marines.
Ann says they stood up for her best friend and his cousin's wedding in 1954. After that, they started going together.
About a year and a half later, Eugene and Ann got married July 17, 1955.
Ever since they got married, the couple has lived in the Cadott area, and raised their family there. Eugene and Ann have four children – Vicki (Mike) Wolf, Chuck (Julie) Bell, and twins Bobbie (Dirk) van Schoonhoven and Becki Bell, who is now deceased.
The couple also has seven grandchildren and a number of step-grandchildren.
"And then, we've got a whole mess of great-grandkids," said Ann, telling how they enjoy spending time with the youngsters.
Eugene says they have done a lot of traveling over the years. They've gone to Korea, Japan, Hong Kong, Greece and Alaska.
Ann says the Alaskan cruise, in celebration of their 50th anniversary, was one of her favorites. She says the views were beautiful, especially on the land excursions. Ann encouraged people to travel while they are young enough to enjoy it.
"We spent a week on the island of Crete, off of Greece, and that was nice," said Eugene, of his favorite destination.
Hunting and fishing were also favorite pastimes for Eugene, with trips out west every fall, and some trips to Canada. While Ann didn't do much hunting or fishing, she did go along to Canada for a vacation. Eugene says they still enjoy traveling, but are staying home for the time being. The couple also has a number of other hobbies they enjoy. They enjoy watching the Packers and they also keep busy spoiling their dog, Daisy. Eugene also says they used to have a camper in the Birchwood area, and they spent a lot of time there. They also used to go from one friend's house to another, playing cards for entertainment.
"That was one of the big things," said Eugene.
They no longer play cards together, either, since Eugene's eyesight has gotten worse. His reason why they don't break out the cards was a little more telling.
"She cheats," he said with a laugh.
The driving responsibilities have also turned over to Ann.
"He can't see, but he can still tell me how to drive," said Ann.
Eugene says he liked to drive and he worked hauling milk for a time. Then, he worked at E.M. Hale for a while, before working for the county for 23 years, until they bought a dairy farm in 1979. They continued to farm until 2008, when they moved to their house in town.
Ann spent most of her working years at the Cadott Medical Center, after a stint working at St. Joseph's Hospital.
They have also remained active members of the community and both are members of St. John's Lutheran Church. Eugene also served on the village board for three years, and is also a member of the American Legion, VFW and Veterans' Tribute.
"It keeps us going," said Ann.
They say stuff has changed over the years. "We're old enough that we remember how the old town used to be," said Eugene.
Ann also says the changes to technology during her lifetime floors her and remembers attending a country school in her early years.
The friends they made over the years were on show for the surprise anniversary parade.
"We have got a lot of good friends in Cadott," said Eugene, adding they have friends from across the country.
Ann says she thought their daughter, Bobbie, was calling from Texas, when she was already in Eau Claire.
"We were in complete shock," said Ann of the parade.
Ann says they really couldn't ask for any better neighbors.
"The whole village has been good to us," said Eugene.
Cadott couple Eugene and Ann Bell celebrated their 65th anniversary, July 17. Family, friends and neighbors drove by as part of a surprise parade to wish the couple well.