Posted on
Gienckes mark 70 years of fun-filled marriage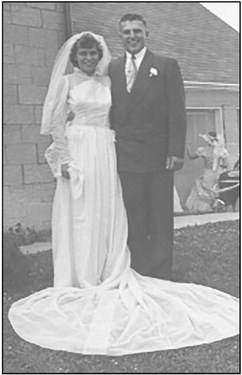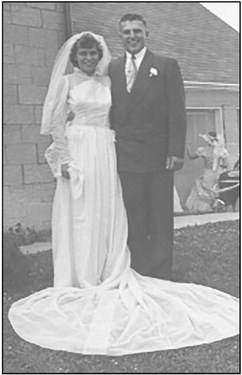 It was a date that almost didn't take place for Holcombe couple Robert "Bob," 90, and Dolores Giencke, 89. The two grew up in Waukesha, and met when they were young.
Their love story began in 1948, when Bob asked Dolores' girlfriend for a date, while another fellow asked Dolores out for the double-date.
"When it came time for the date, my husband (Bob) came to the door instead of the one I made the date with," said Dolores. "He (Bob) jumped out of the car, because he wanted to take me. My mother was so mad. From then on, we were just together."
Now, seven decades later, the couple will celebrate their 70th anniversary, Wednesday, July 29.
Starting off in Waukesha, Bob grew up on a farm, while Dolores' father was a carpenter. Bob was just out of high school when the two started dating, but Dolores didn't get to go to high school. Instead, she went to vocational school, and got a job in the motorworks company there until her marriage, on the key punching machine.
Dolores later got her GED and went to college when she was in her 40s.
In the meantime, however, after they got back from their honeymoon at Niagra Falls, she and Bob moved out to his family's farm. There, they lived in a huge farmhouse, residing in the upstairs, while his parents lived downstairs, and his aunt and uncle lived across the street.
"We had four generations live together on the farm," said Dolores. "It was so nice."
Bob later became a mason, which he really enjoyed.
While on the farm, Dolores and Bob raised four children – three boys and one girl. They also had many animals and a large garden, where Dolores canned many vegetables.
"The thresher would come and you'd have to feed all the threshers," said Dolores, who also made all the boys' flannel pajamas with feet in them, as well as bridesmaid dresses. "I sewed so many clothes."
In their spare time, the family liked to go camping, boating and snowmobiling. Dolores and Bob also loved going to a dance pavilion in New Berlin. Bob was a big baseball player at the time and the family enjoyed watching the games.
After a time, Dolores worked as an aide in the Waukesha School System for 20 years.
In addition to camping, Bob loves hunting and came to Holcombe with his friends on a hunting trip.
"And he saw this place here, but there was nothing here, it was just all woods, no roads, no nothing," said Dolores.
"It was just logging trails," said their daughter Chris Untiedt.
Bob fell in love with the timbered area on the lake and the couple was one of the first ones to build in the area off North Shore Drive.
"When he brought me here, I just sat up top and I cried," said Dolores.
"He was always doing stuff like that," said Chris.
The family spent weekends and holidays at the lake house they built, until the early 1990s, when Bob and Dolores retired and moved to Holcombe.
"He retired and I worked," said Dolores.
She just couldn't stay away from kids and ran the baby room at TLC for 10 years.
"When I was 80, I quit working," said Dolores.
On their own, the couple has 10 grandchildren and 13 great-grandchildren.
"All of our kids are very successful," said Dolores. "So, I don't know, I must have done something right. I must have hollered at them enough."
Although they are both at an age when no one would fault them for relaxing, the Gienckes have no intention of slowing down.
Bob continues to do all the yard work and even climbs ladders to clean out gutters on the house. He also still goes every afternoon to Cookie's Holcombe Inn and Arnold Bar, as he's "gotta talk with the boys."
"They're very active," said Chris.
In addition to her cooking and cleaning, Dolores says the steep hill leading to the couple's garage and car, keeps her in shape. She still goes to the laundromat, towing the loads of clothes up and down with a sled.
"I run up and down the hill, I bet five or six times (daily)," said Dolores.
When they do sit down for a break, Bob delves into mystery stories.
"He loves to read," said Dolores.
Dolores loves to knit, latch hook and embroider, creating many masterpieces for her children and grandchildren.
"I'm busy all the time," said Dolores.
When they first came to Holcombe, the couple used to visit friends and go out to bars/resorts for some fun, but Dolores says many of their friends are no longer with them.
"Everything is so different now," she said. "You don't even know the people anymore. We used to have the most fun up here."
"They've seen a lot," agreed Chris.
Other than the love the couple has for each other, something that is still going strong, is a strand of pearls Bob gave Dolores on their wedding day. Before they moved permanently to Holcombe, Dolores had to get the pearls restrung and took them into a jeweler.
"And the woman looked down her nose at me and she said, 'You know, these aren't worth anything,'" said Dolores. "Well, they mean the world to me."
The individual pearls may have turned different shades, but like Bob and Dolores, variety is the spice of life. Bob is a quiet sort, full of mischief, while Dolores is talkative and on the go.
In the end, that may be what makes their marriage last so long, as Dolores says couples shouldn't try to change their spouse.
"You shouldn't think you can just make the other person like you," said Dolores. "You should each stay yourself and do your own thing, and accept the other person how they are."