Posted on
Ready Ride helps get people down the road safely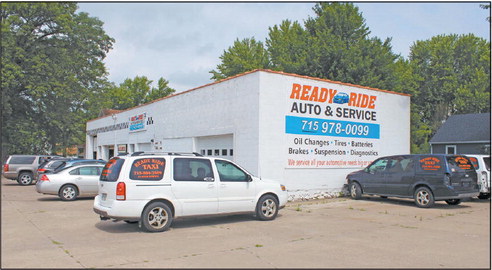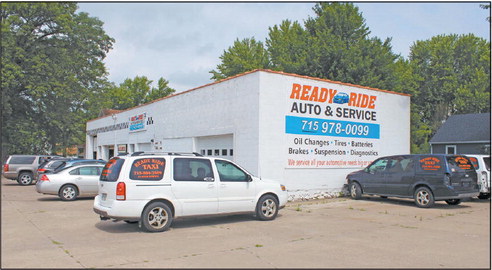 Cadott residents may have noticed that the auto repair shop at the corner of Main Street and Chippewa Street, is once again up and going, after Ready Ride Auto & Service opened for business Jan. 1.
Nina Eisold, owner, says the mechanic shop handles a wide variety of automotive services, including tires, rebuilding engines, replacing transmissions and oil changes. The shop also does small painting jobs and fixes fender benders. She says business remained steady throughout the COVID-19 pandemic.
"Bill (Karlen) kept this up," said Eisold of the shop, adding that very little needed to be done to the building before she could get Ready Ride up and running.
She says she hopes to keep the same ambiance in the shop as Bill had.
"I was surprised," said Eisold. "I had seen it when it was first for sale and I thought, oh, it'll go in a hot second."
When it was still for sale almost a year later, Eisold got in contact with the realtor.
"Right when I walked in here, I was like, 'This is it,'" said Eisold.
Eisold says she had considered opening a mechanic shop in Chippewa Falls, but Cadott's close-knit and friendly community drew her in.
For now, Ready Ride employs one person besides Eisold, fellow mechanic Josh Eyerly.
"He's super smart and knows everything," said Eisold of Eyerly. "And he is really quick."
She says Eyerly has 15-20 years of experience.
"I just started in January, so I'm learning as we go here," said Eisold.
Eisold says she always had mechanics do maintenance and repair work on her taxis for years, and felt like she was overspending, that they were not doing what she asked for or that they were doing extra work to drive the bill up.
"I felt like I got the short end of the stick," said Eisold.
Eisold says she wants all the vehicles in her fleet to be safe and quiet. Now, she says she feels she can get her vehicles up to the best they can possibly be.
"The wait was worth it," said Eisold.
Eisold also wants to pass the quality, reliable workmanship on to her customers. She says she would rather do work that lasts and gets customers safely down the road, than a quick fix that will require more repairs in a month or two.
"That little extra that mechanics can do, I want to be that mechanic," said Eisold.
She says she sends pictures or shows people the issue, instead of just telling them there is a problem, so they can see the issue for themselves. Eisold also says she can help people create plans to get their cars to the safest possible, if they are unable to get all the fixes done at once.
"You get the little things taken care of, you baby that, until you can fix the bigger issue," said Eisold.
Eventually, Eisold says she hopes to start buying and selling vehicles.
While the Cadott location is the only place where Eisold offers mechanic services, she also owns a taxi business, Ready Ride Taxi, that she has run for 10 years. The taxi service is based in Chippewa Falls, but Eisold says they are slowly moving stuff to Cadott.
"We started out with two vans and no money in my pocket," said Eisold.
She says she started out by herself, with another driver, and drove day and night.
Now, the company drives eight to 10 vans, just during the day. Eisold says a lot of people use the service to get to and from work, doctors appointments or errands. The taxi company makes trips all over the state.
Eisold says she has a big heart for the people who rely on her taxi service, especially the disabled and elderly.
"I've always wanted to provide a safe and comforting ride," said Eisold.
Not only does Eisold fix the vehicles in her fleet as soon as an issue is identified, she also vets her drivers, which now number between 12-15 drivers, as well as a manager who serves as her "right hand lady."
"It's probably my most favorite job I've ever had, being able to help people," said Eisold.
That doesn't mean the work is always easy. Eisold says there were a lot of days she worked 16 or 18 hours, daily, for months at a time.
"I've never asked anybody to do something I haven't done myself," said Eisold.
She says she thinks of herself as part of a team, not a boss. She says she still makes an effort to drive new customers herself, as a means of introduction.
Eisold says they also offer a prescription delivery service, where they deliver to nursing homes and pharmacies.
To make an appointment for repairs at Ready Ride Auto & Service, people can call 715-978-0099. The business also takes walk-ins. Ready Ride Taxi can be reached at 715-864-2409.
"I'm proud of what I have," said Eisold of the businesses. "I built it. It's taken a long time, a lot of sacrifice."
[caption id="attachment_74069" align="alignnone" width="300"]
Ready Ride Auto & Service offers services such as oil changes, brakes, batteries, tires, suspension and diagnostics. Owner Nina Eisold says she wants to build the trust of the community and get customers down the road safely. Photo by Julia Wolf[/caption] [caption id="attachment_74080" align="alignnone" width="200"]
Nina Eisold, owner of Ready Ride Auto & Service, and Ready Ride Taxi, opened the mechanic shop in Cadott in January. Eisold says the close-knit and friendly nature of Cadott, drew her into the area. Photo by Julia Wolf[/caption]