Posted on
Mittermeyer continues to smile after 50 years with bank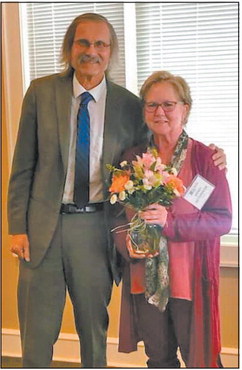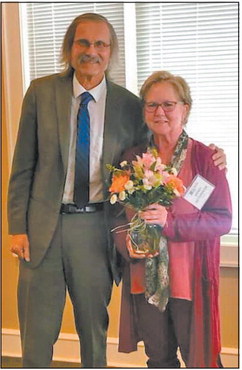 If you ask most people around the area, many are surprised to find that Northwestern Bank-Cornell Branch manager Wendy Mittermeyer, has been with the bank for 50 years. Mittermeyer started with the bank as an intern, after her teacher, Grace Stowell, sent students to various local businesses for job training.
"I started at Northwestern Bank in 1970, my senior year at Cornell High School," said Mittermeyer. "My goal was always to be a business education teacher, but when I was done with the job training, the manager, which was Rod Johnson at the time, said there was a part-time opening in bookkeeping. If I was interested, it could be mine."
Back then, the bookkeeping department was located where the walk-up is now, where Mittermeyer worked with machines to hand post accounts. In the early 1990s, a large remodel was done, where the curved teller windows were moved away from the vault, a third office was added and an upstairs lunchroom/bathroom was installed for employees.
Otherwise, the bank hasn't changed much physically over the years.
At first, Mittermeyer was only supposed to be part-time, but since some employees were on vacation, her hours were increased and she even waited on drive-thru customers.
"Shortly after I started, a gal had to go to part-time, so I got her full-time position," said Mittermeyer. "So, basically, I was full-time from the time I started."
Originally, Mittermeyer worked with Johnson, Dorothy Sorenson, Donna Zaruba, Mabel Quinlan and Elaine Klass.
"I wasn't sure that being a banker was what I wanted to do and little did I know," said Mittermeyer, "50 years later, I would still be at Northwestern Bank and the manager would be my brother-in-law (Johnson)."
Working every day, Mittermeyer ran a proof machine, was in customer service, figured out service charges and interest by hand, and every quarter, she and Sorenson stayed to calculate interest on customers' savings accounts, sometimes staying until 1 a.m.
"And then, in 1997, when the manager, Rod Johnson, decided to retire, Jerry Jacobson promoted me to be the branch manager and a loan officer," said Mittermeyer. "In the 50 years of working at the bank, I've seen a lot of changes."
In the past, employees filed checks by hand, which were stamped and put in alphabetical order, then posted to accounts. Now, checks are electronically scanned as customers bring them in, subtracting the amount from accounts.
"We had to hand stamp all the addresses and names on the bank statements," said Mittermeyer.
The Cornell Courier would make metal plates with names and account numbers on them, and the plates would be inserted into a machine. Stomping on a foot pedal, Mittermeyer would get the labels made.
"We did that for a long time until it was computerized," said Mittermeyer.
Checks had to be added on a calculator, so that drawers could be balanced at the end of the day with ease. In fact, checks were even printed at the bank.
"And no one had an account number," she said. "There was no name on the check. You really sometimes had to figure out who wrote that check…because there was no way to know who it was."
Mittermeyer says when people brought in buckets of change, the employees had to count the change by hand, then insert the coins into paper rolls.
"It took forever," said Mittermeyer. "We couldn't get it done in a day if we were waiting on people."
She also recalls when Fridays were a "big deal" in town. Businesses stayed open late, including the bank.
"Computers and technology have changed all of that," said Mittermeyer.
To keep up with all the changes, Mittermeyer has taken a lot of bank courses and trainings, which helps in her additional role of assistant vice president of Northwest Bank.
Something Mittermeyer really likes about the bank, is how they give back to the community and how much they care about their customers. She said she has worked with many wonderful past co-workers and continues to work with amazing people.
"It's been a great place to work," said Mittermeyer.
Mittermeyer said she loves getting out and being around people, and also enjoys working with her work family.
"Many people ask me, when are you going to retire?" said Mittermeyer. "I tell them, when I go out the door in the morning, my husband is smiling and so am I."
Jacobson, who has been with Northwestern Bank more than 40 years, has obviously known Mittermeyer a long time, and says she is a stellar employee and a great person.
"She has been an unbelievable rock and solid person in our Cornell office," said Jacobson. "Whatever needs to be done, Wendy will get it done. She's one of those employees that I ask if she can do something, I forget about it, because I know it's going to be done. You can't say that about everybody."
Jacobson says he knows Mittermeyer will eventually retire, buy he hopes that is a long time from now. He said he likes having Mittermeyer as his "ears on the ground" to inform him of community needs, to help keep Cornell growing.
For Mittermeyer, the bank's motto is one she has taken to heart and one she sees in action every day.
"I truly believe that my feelings have always been, 'where people matter,'" she said.
[caption id="attachment_67914" align="alignnone" width="196"]
Wendy Mittermeyer (right) was surprised with flowers at a recent staff meeting, by Northwestern Bank president Jerry Jacobson. Mittermeyer has been employed with the bank for 50 years.[/caption]