Posted on
Whispering Pines sees major renovations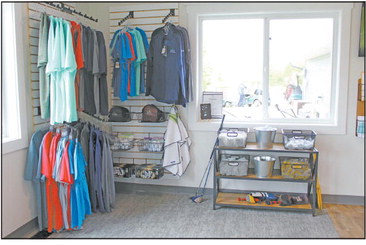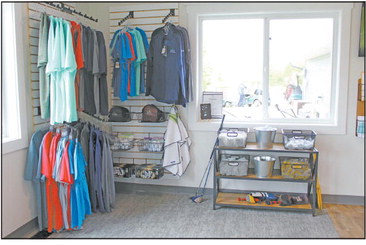 Golfers and passerby alike may have noticed some changes to Whispering Pines Golf Course, west of Cadott on County Hwy. X. The property was purchased by new owners in mid-March, and has undergone some major changes since that time.
"We've been talking about this for years," said Todd Rykal, co-owner of the course.
The course is owned by T. Rykal, Luke Rykal, Tony Roscoe, Gary Rykal, Jim Buetow, Jarod Leslie, Jim Dzienkowski, and their families.
The 18-hole course has not seen many changes since the purchase, but the clubhouse is another story. T. Rykal says they saw the clubhouse as a missed opportunity, in terms of revenue and making the location more welcoming to visitors.
"So, we all kind of had these visions of what we wanted it to look like for the past five to 10 years," said T. Rykal. "So, when it came up for sale, we said 'Hey, we've been talking about this for years. Are we ready to go?'" T. Rykal says the group jumped at the opportunity right away, making an offer within two days, and the previous owners accepting the offer two weeks later.
He says they appreciate what previous owners Frank and Dick Kyes did to start the business.
"We're really thankful that they accepted our offer," said T. Rykal.
From there, work on the clubhouse began. The building received new siding and larger windows, so those inside can watch the action on the course.
An office area was also torn down to expand the deck area.
"Sitting out here, you couldn't see some of the golf course," T. Rykal said of the deck area before renovations.
The happenings on the course are now visible from the deck.
"It's a nice place to sit and chill, and have a drink, or just talk with friends," said T. Rykal.
The owners also want to make the course more welcoming for families and those who do not golf, to relax.
"This is their time to kind of get away from things," said T. Rykal. "We did everything with that in mind."
The driving range balls have also found a new home, outdoors near the range, instead of in by the pro shop.
"It just is way more convenient than trying to go in and grab balls," said T. Rykal.
T. Rykal says they all put in a lot of long nights getting the clubhouse ready to go and that the shutdown caused by COVID-19, was actually a blessing in disguise.
"It kind of worked out pretty well, in terms of having some time to dedicate to this," said T. Rykal.
T. Rykal says the slow opening also helped, with the business able to start serving take-out food, with a new menu, before golfing was allowed to re-start. Now, patrons have been cognizant of social distancing and every golf cart is powerwashed after each use.
Patrons can select from a number of appetizers, burgers, sandwiches, wings or homemade pizzas. There is also a kids menu for younger guests. The full menu is also available online, so people can call ahead and pick up their order, if they would like.
"We've done a lot of pizzas through here, so it's been kind of fun to be able to serve people," said T. Rykal.
All of the equipment in the kitchen area is new. T. Rykal says a fryer for the kitchen is on its way, to make deep fried foods an option.
"We now have a nice bar," said T. Rykal, referring to the new, concrete poured counter top bar. "It's an open concept area."
There are now eight tap line options behind the bar, and they have started storing more beer and liquor.
The inside also features four new TVs. T. Rykal says they hope to air sports games, such as the Brewers, Packers and golf tournaments, once those start back up again.
There is also a shuffle board table and juke box for guests to use in the clubhouse.
The pro shop was minimized, while still keeping options available for men and women. With the exception of the new flooring, the owners worked on all of the updates themselves.
The coolers were moved to the basement and the basement is one of the next areas the owners plan to focus their improvements on. "We want to try to make that more of an attraction at some point soon," said T. Rykal, adding the open area offers a lot of seating.
T. Rykal says, after all of their hard work, their employees are really who makes the business go. The golf course employs 30-35 people: two full-time and many seasonal workers. He says the mix of employees is really what makes business a fun place to work.
"We depend a lot on our employees and they do a fabulous job," said T. Rykal.
He also says they are excited that they have been busy since they opened.
"It's honestly been really nice to see a lot of people in here," said T. Rykal.
The clubhouse at Whispering Pines Golf Course, Cadott, got a major facelift, after it was purchased by new owners in March. The outside of the building features new siding and windows, an expanded deck area with a view of the course and a sign, made by Advanced Laser, featuring the business logo.
Photos by Julia Wolf