Posted on
Spring Creek Meats wants you to know your farmer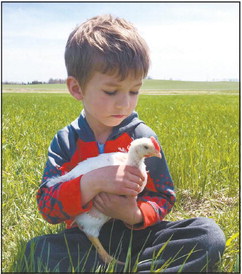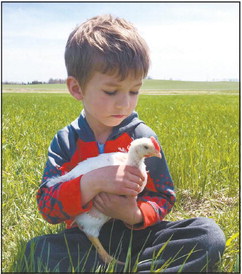 "It's just something we value, having meat that you know how it was raised and that it was treated humanely."
Those are the words of Hannah Clark, who together with her boyfriend Carl Popple, started Spring Creek Meats in March 2019, to spread that opportunity to others. The store is located on a fifth-generation family farm, located southwest of Cornell on County Hwy. R, and is also an active dairy farm.
"We've actually always sold beef and pork in bulk, but it's just not convenient for people to put half a beef or a whole pig in their freezer," said Clark.
They decided to get a license to sell individual cuts of meat right off the farm. The on-farm store offers beef, pork and chicken, as well as brown eggs.
Clark says the locally-grown meat is high quality. After growing up on farm fresh meat, they decided to give others the opportunity to connect to their food and get to
know the farmer.
"We always say that we believe animals should be raised on green pastures, under blue skies," said Clark.
Clark says some customers have turned to the homegrown meats as a way to improve their health.
The farm finished out about 20 beef cattle, 15 pigs and 400 chickens last year, and are expecting to do around the same number of animals this year.
The pork and beef is processed at Conrath Quality Meats in Conrath, and chicken is processed at AA Processing in Ridgeland.
Spring Creek Meats raises a number of breeds of each animal, including Hereford, Simmental, and Angus cattle and Hereford, Large Black and Yorkshire for pigs. Their chickens are Cornish Cross. The farm also has laying hens for eggs.
The store operates on a call-ahead basis. Those who would like to visit the store, can contact Spring Creek Meats by calling 715-214-5220, sending a message over social media, or sending an email. All the contact information for the farm can be found on springcreekmeats.com.