Posted on
Boettcher says student success drives 30 years on board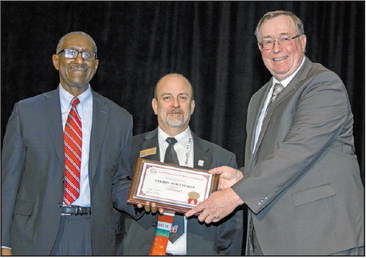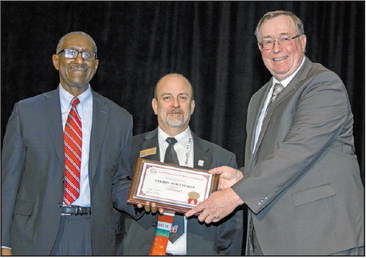 Cedric Boettcher was recognized for 30 years of service on the Cadott School Board. Boettcher received the recognition during the Wisconsin Association of School Boards State Education Convention, Jan. 22-24.
"When my kids were young, we had some things that we'd like to see changed," said Boettcher, reflecting on why he first ran for the Cadott School Board. "I thought, 'You know, maybe I should just run.'" Boettcher says he was interested in what was going on in the school and supporting the public education system that gives every child a chance. A long family history in education encouraged him further.
"My father was on the school board when they built the high school in 1961," said Boettcher.
Boettcher's mother was the Cadott business education teacher for 24 years, and his wife served as a substitute teacher for over 30 years.
Boetccher says it took him quite a while to understand what was all going on in the district, something he sees every time new people are elected to the board. He says the mix of youth and longevity on the board is important, as many viewpoints pull together to make one vote. Boettcher is familiar with the importance of pulling people together, as he served as board president for 14 years.
Remodeling the elementary school was one of the highlights of what Boettcher helped the district accomplish over the years. He says he is proud of the way the board and district were able to address the needs of the students, and update the safety of the building.
Through all the years, Boettcher says there is one constant.
"The educational needs of students are always first," said Boettcher.
He says he has seen students' needs change over the years, as it seems more students need additional help. He also noted a good, safe environment for the youth to learn in is a big deal.
Boettcher has seen the school become a focal point of the community, where needs outside of education, such as food and mental health, can begin to be addressed.
"You have to clear the plate at the school for these young people so they can learn," said Boettcher.
Boettcher says he still enjoys his time on the board, even if a thick skin is required at times, and is running again. He also has the opportunity to watch three grandchildren learn and grow in the district.
He says providing those services for students takes a team, from a staff dedicated to helping the children, to the Cadott community supporting public education.
All the hard work that goes into giving students the best education possible is worth it, Boettcher says, when he sees the students' success after graduation. He says he is proud to know Cadott was able to provide the base for those students.
"Even if they're not around here, you hear about the success," said Boettcher. "...That's one of the really big things for me, to see the success of our students out in the world."