Posted on
From truck driver to pastor, Messmer brings new views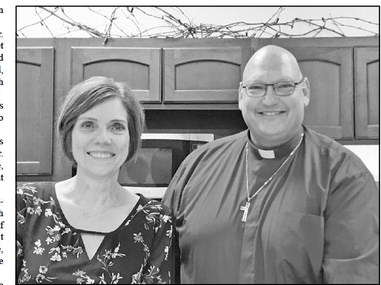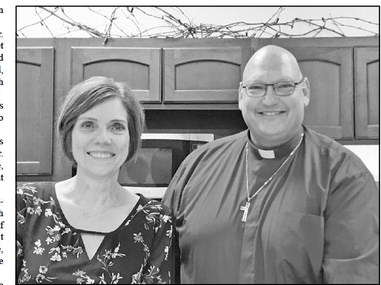 There are big laughs coming from the Holcombe, Jim Falls and Anson United Methodist churches, nowadays, coming in the form of Pastor Paul Messmer, who lends his joyful chuckle to any gathering. Messmer took over leadership of the congregations Aug. 1, of last year, after former pastor Jason Kim left to begin a Korean church plant in Eau Claire.
"I got big shoes to fill," said Messmer. "He's very cool."
Messmer said his appointment happened fast, as he was informed in the middle of June, that he was needed to transfer from his small community church in Rockland, to the Northwoods.
"That's when I got told, you're moving and it's going to be north, that's it," said Messmer.
Although he spent two years as the pastor at Rockland, for Messmer, it was really only a part-time thing, as he continued working as a truck driver. It was a more unique start to becoming a local licensed pastor, as Messmer hauled anything and everything for 36 years.
Because there are three parishes spread out in the Holcombe/Cornell/Cadott areas, Messmer has to manage his time well on Sunday mornings.
"It's a little interesting," said Messmer. "The done-and-run thing I'm trying to get used to. That was one of the reasons I did get this, because I was a driver…they said, hey, you'd be just the guy to make it through snow and everything to get there on time."
Messmer says God has always been in his life since he was 12 years old, but his path to becoming a minister was very interesting.
"I was told at a very young age, that I was going to become a pastor," said Messmer. "And I'm just like, yeah right, Aunt Lucille, whatever. Not happening. And I fought that for many years."
Eventually, Messmer realized God really did want him in the pulpit, even though Messmer thought he wasn't "that kind of material." His road to the ministry wasn't always easy, as he went through a divorce, acknowledging he wouldn't be a pastor if he was still married to his first wife.
"Being a pastor, I really encourage people to stay together…it is very much a commitment," said Messmer, adding that if a couple doesn't change together, things won't work right. "Out of dismay, we always can find a silver lining, and somewhere where we can keep moving forward and move on, and that's a good thing."
Messmer found love again, with his wife/friend, Mary, who joins him in their love of singing. The couple also likes to travel to the Hayward area, to go ATV riding and antiquing.
"And being together," said Messmer.
Messmer took a leap of faith coming to the area, but says he and wife have left it all in God's hands. It may have been a bigger step than some realize, since Messmer has only been on the road to being a pastor going on four years.
The process to become a minister was a lengthy one, as Messmer had to attend a candidate retreat, get a mentor and go through psychiatric tests, to make sure he can handle every situation.
"Being a pastor has many hats," said Messmer.
The 55-year-old Messmer has a bit of a challenge before him, as he has been asked to bring more people into the church, specifically children.
"We don't just want to survive, we want to thrive," said Messmer. "I think every church is looking for that."
Messmer says while church is technically only an hour each week, it can be difficult to keep numbers up, with so many things going on in people's lives.
"It's a good group," Messmer said of his congregation. "They got a good foundation here."
He says he doesn't foresee any major changes, but does want to be more in the public and to bring the three congregations together for big events.
Messmer, who goes simply by Paul, and not Pastor, says he draws on his life experiences for sermons, making the fables relatable to scripture.
"We're all human and we're all people," said Messmer, who mentioned that everybody has their own relationship with God.
"I can't tell you how to understand God," said Messmer. "God is always involved in our lives, but you just gotta sit back and look, and see where."
The days of fire and brimstone are past, and Messmer's messages are based on love and forgiveness. He said people have to decide to be used by God, as everyone has a purpose and reason in this world.
"The Holy Spirit's in all of us, all the time," said Messmer. "God is always there. No matter what happens in our lives, He is always there. If you choose to believe or not, that's up to you."