Posted on
Cornell home to hidden gem with nature preserve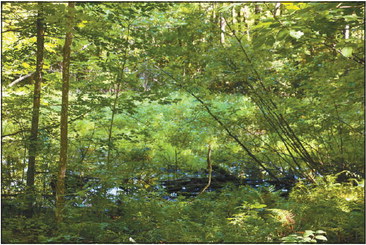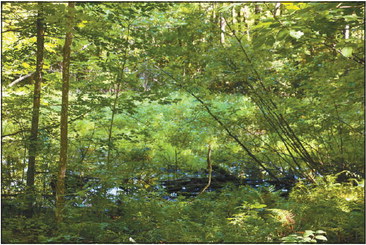 Did you know there are 598 acres of upland forest, open for public use in Cornell? As part of the Krank Nature Preserve, the property is home to walking trails, wildlife and a tamarack bog/wetland area – a nature lover's dream.
Located across from the Chippewa River on County Hwy. CC, there are several entrances, marked by small signs, including on County Hwy. Z, just west of the New Life Alliance Church.
"The road to the property is beautiful, and it climbs as you go in and it increases in elevation for a ways," said Richard Smith, vice president of the Chippewa County Land Conservancy. "You can actually walk the whole property from Highway Z."
There are many old trails on the property, which served as a network of ATV or logging trails, before the land was purchased by the conservancy.
"You can kind of wander around in there and get lost on the trails, unless you know where you are," said Smith.
Owned by Bill and Beverly Krank, long-time residents of Cornell, part of their private land had the Ice Age Trail running through the property. When the Kranks decided to sell their large acreage, the conservancy, a private, non-profit organization that forms land preserves, approached the couple about purchasing a portion of the large acreage.
However, it was all or nothing for the Kranks, as they didn't want the property to be divided up. After a long process, according to Smith, the transaction was complete, made possible by the Kranks selling the land for less than fair market value, as a contribution to the preservation of the property.
"These projects take forever," said Smith of the lengthy process. "We were thrilled when everything kind of came together."
Because the property was so well maintained, it didn't take much to get the preserve up and running. The acreage is maintained, in part, by volunteers of the conservancy, as well as Ice Age Trail volunteers for the trail's portion of the preserve.
"The whole idea of preserving this property, the way land trusts work, basically, they're there for the long haul," said Smith. "At some point, there's a pretty good chance that it will become even more valuable to the community and to the region, as a place to go and look at birds or…wildflowers."
The preserve is free and open year round, to any naturebased recreation, such as hunting, berry picking and bird watching, with the exception of allowing motorized vehicles.
"It's not open to camping right now," said Smith.
While there are many who already utilize the acreage, Smith says all are welcome to come and fall in love with the preserve.
"We would love to have some people that were kind of bonded with the property," he said.
There are already dedicated volunteers maintaining the property, but Smith says the conservancy can always use more.
"I'd love it if there were naturalists," said Smith, "people who are interested in nature and went in there, and made journals…trying to keep track of what goes on in there at different times of the year. There are all kinds of possibilities of what we would find useful."