Posted on
Kirkmans married for 50 years and counting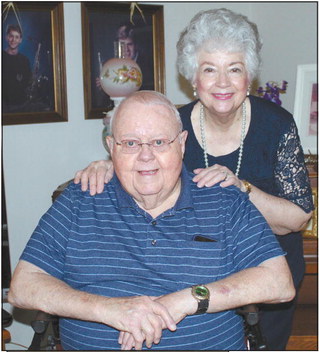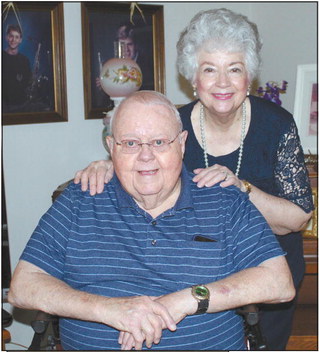 Holcombe couple Denis and Gayle Kirkman celebrated 50 years of marriage in 2019.
Gayle was attending graduate school for drama at the University of Minnesota, when she complained to one of her friends, a teacher, that there were no eligible bachelors at the university. Gayle's friend told her there were two coaches and a principal who were bachelors, so Gayle went to visit.
"She introduced me to first the one coach, then the other coach, and I was not interested in either of them very much," said Gayle. "But then there was this principal and that was Denis. He was very charming and fun."
Gayle had to return to Minneapolis, Minn., to perform on a showboat that summer, but Gayle's friend and Denis made the trip up to visit. She says one thing led to another.
A memory Gayle says was very romantic, was when Denis took her on a canoe trip down a river. Trees along the way formed arches.
Denis's rendition of how they met is much shorter.
"I stole her off the stage," joked Denis.
The couple met July 1968, and Denis proposed around Christmas that year. They wed April 19, 1969, when Gayle was 23 and Denis was 33.
Denis suggested Gayle take some education classes before her graduation in April. At the time, Denis was serving as superintendant in Seneca. Since it was a small town and there were not many other jobs, Denis said he thought he could get her a temporary teaching license, since there was a shortage of teachers.
"I never had thought of teaching," said Gayle. "Really, marrying Denis changed my whole outlook on life."
Her English degree came in handy and Gayle's love for drama lived on, as she did plays.
Two years later, they had a baby. Gayle says having a child really pushed her to grow up.
Denis then took a job in Arcadia, and Gayle was pregnant with their second child. Gayle says she was busy with the kids, so her teaching career was in limbo for a bit. A third child followed.
After their three children started school, Denis got Gayle into teaching again, working with the students who were less interested in school.
"She got along with them real well," said Denis, adding that growing up with brothers probably helped Gayle. "They really liked her."
Gayle says she thinks working in the same field as Denis, is part of the reason their marriage worked, as they could go to work together. Gayle also said small town support and involvement in the community through activities like the Lions, was important.
Denis recalled when they went to watch Miss Wisconsin compete in the Miss America pageant in Atlantic City, N.J., because they knew her.
"Those are things that are highlights of your life that you did together," said Gayle.
Tenting with the family was another memory that stuck.
"I have to say, for not being an outdoors girl, I got outside a lot," said Gayle.
She says storms during camping trips made her especially nervous, because she didn't know if the tent would hold.
"Well, sometimes it didn't," said Denis.
Gayle says the kids loved camping and still talk about it.
"You're sitting in the tent in the middle of a storm, you have to bond," said Gayle.
Denis also remembers hiking the bluffs along the Mississippi River, pulling Gayle behind on a rope tied to their waists to help her along.
After 16 years in Arcadia, the couple moved to Holcombe, in 1986. Denis was the superintendent at Lake Holcombe School and Gayle continued to teach, until they retired in 1992 and 2002, respectively.
Gayle noted that a happy family also helped, since rough times with family can challenge a marriage. All three of their children – J.D., Matthew and Andrew – are married and have kids of their own. Denis also has a greatgrandchild from a previous marriage.
Denis noted respect for each other was also important for the marriage. Gayle said they each have their areas of expertise, so they could work together to highlight each other's strong points. They also taught each other how to do stuff. For example, Denis taught Gayle how to iron a shirt.
"It was a co-op deal," said Denis.
Gayle says their love has gotten deeper in the years since they met.
"We certainly are each other's best friend," said Gayle.
Denis says there are a number of things he sees as important to continue getting along after 50 years. The first is overlooking the other's little aggravations and flaws. Denis says it is also important to pay attention to each others activities and successes, and encourage each other.
"I'm never afraid to tell her that I love her," said Denis.
He also says paying each other compliments and helping each other with chores, when possible. Lastly, Denis noted honesty with each other is important.
During the wedding ceremony, Denis put three rings on Gayle's finger and said they stood for love, honor and respect.
"I was crying through the whole ceremony," said Gayle, adding it was romantic Denis thought to add the personal touch to the rings.
Gayle says she and Denis have the same moral values, and religion as well.
"Those kind of things help, too, keep people bound together," said Gayle.
Gayle says they still had their fights, but never anything that would threaten the marriage.
"I think we knew when to stop," said Gayle.
"Funny, I don't remember any of them times," said Denis.
Gayle says their children often tell them that they set a good example for them. She says the longevity of their marriage comes down to supporting each other and spending time together.
"I did what he wanted and he came to my shows," said Gayle.