Posted on
Edgar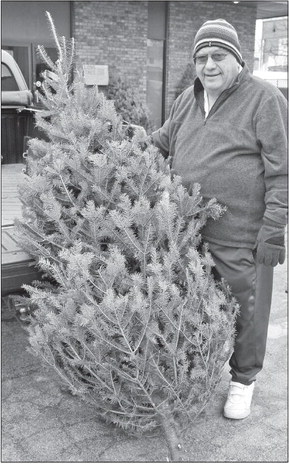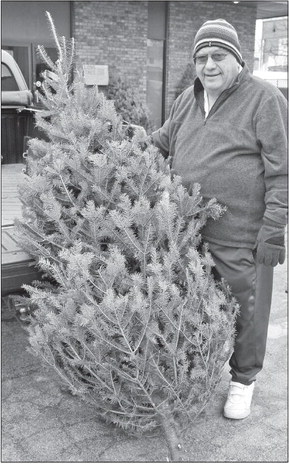 COMMUNITY LIVING
Send Edgar news to: RR@tpprinting.com phone: 715-223-2342 fax: 715-223-3505 P.O. Box 677 103 West Spruce Street Abbotsford, WI 54405 Birth
A son, Sterling Martin, was born to Mark and Jill Niemann, Greenwood, on Nov. 13, 2020, at Aspirus Hospital in Wausau. He weighed five pounds, four ounces and was 17 inches long.
He joins siblings Cruz, 6, Jace, 4, and Emerald, 2.
Maternal grandparents are Dennis and Renee Hinrichsen, Abbotsford. Paternal grandparents are Mel and Sharon Niemann, Edgar.
Maternal great-grandparents are Del and LaVada Langreck and Bob and Darla Hinrichsen. Paternal greatgrandmother is Arabella Syring.
COVID dashboard
Edgar Public School has reported as of Thursday, Dec. 3, there is one active COVID-19 case among staff and students. The school has had 59 cumulative cases since the start of school. There are 668 Edgar staff and students.
Santa drive-through
The Fenwood Lions Club will host a Santa drivethrough visit on Saturday, Dec. 12, from 1-2:30 p.m. at the Fenwood Fire Hall located across from the Fenwood ballpark. Families will need to follow the signs to drive through the fire hall parking lot. Santa and his elves will deliver treats to your vehicle. Participants should stay in their vehicles and just roll down their windows.
Coin drive
The Edgar Middle School will run a coin drive through Friday, Dec. 11, to raise money to buy Christmas gifts for children in need. Last year, the middle school raised $748.11.
Under coin drive rules, the class that raises the most money will be eligible for a prize.
Family fun night
Edgar Elementary School will send home a fun bag during the week of Dec. 14 under the theme of "Home for the Holidays" for families to enjoy. The bag will substitute for the normal monthly Fun Night get-together.
Feeding families
The Edgar Public School kitchen staff will hold its fifth annual food drive to feed families in the Edgar community.
Students are encouraged to bring food items and place them in a box in the school cafeteria. Highly recommended donations include cereal, Pop-Tarts, oatmeal, after school snacks, granola bars, crackers, dinner items, Manwich, spaghetti sauce and noodles.
The Edgar Public School kitchen staff plan to assemble a dozen food baskets for local families. The staff will donate turkey roasts to families in need.
Library discussion
The Marathon County Public Library will host a GoTo-Meeting virtual chat with Lisa Leitermann, executive director of the Humane Society of Marathon County, on Tuesday, Dec. 15, 6:30-7:30 p.m. She will take questions from the audience.
Toys for tots
The CCD program at Holy Family Catholic Church, Poniatowski, is collecting new, unwrapped toys for the Marathon County Toys for Tots program through Saturday, Dec. 12. Cash donations will be accepted as well. Toys can be dropped off in the back porch of the church.
Wellness center
Edgar Public Schools has announced new December hours for community use of its wellness center.
The facility will be open Monday through Saturday. The Monday through Friday community use hours are 4-5 a.m. (with everyone out by 5:45 a.m.) and 8:30 a.m. to 9 p.m. (with everyone out by 9:30 p.m.). Saturday community use hours are 6 a.m. to noon (with everyone out by 12:30 a.m.).
The wellness center will be open on Thursday, Dec. 24, and New Year's Day from 6 a.m. until noon.
Book babies
The Marathon County Public Library is currently taking registration for Book Babies that will be offered every Monday morning starting in January 2021. The program offers stories and more for little ones under age two and time for parents and caregivers to socialize.
Unlike the virtual story times, Book Babies will be conducted through GoTo-Meeting and will be interactive. Songs and rhymes will be geared towards little ones under the age of two with a caregiver. Leaders will read books, sing nursery rhymes, and more for about 20 minutes. Afterward, there will be time for caregivers and babies to see and speak with each other.
These weekly events are free to attend. Go to https://www.mcpl.us/ events/10286#event-10286 to register for Book Babies.
Santa for Seniors
Edgar Elementary School hopes to present residents in local assisted living housing with a wrapped gift for Christmas as part of a Santas for Seniors program. This gift is in lieu of an in-person visit during the COVID-19 outbreak.
Elementary school classrooms will be collecting gifts for the seniors. Possible gift ideas include large print books, crossword puzzle books, puzzles, body soap, shampoo, playing cards, board games, dish towels, blankets, socks, picture frames, writing and art supplies, magazines.
Christmas Mass
St. Johns the Baptist Catholic Church, Edgar, has announced it will hold extra Christmas Masses at the church and at a sister parish Holy Family Catholic Church, Poniatowski. The Christmas Eve Masses will be held at 4 p.m. and 6 p.m. at St. Johns and at 8 p.m. at Holy Family. Christmas Day Masses will be held at 9 a.m. at St. Johns and 10:30 a.m. at Holy Family.
The extra Masses are to accommodate social distancing at the two churches due to the COVID-19 pandemic.