Posted on
Battling for Maple Grove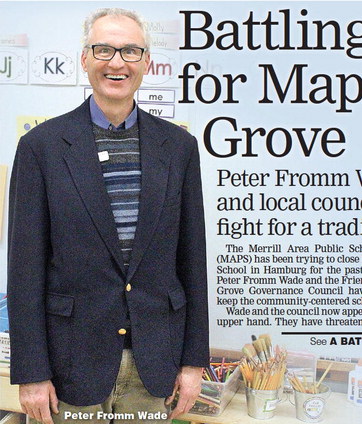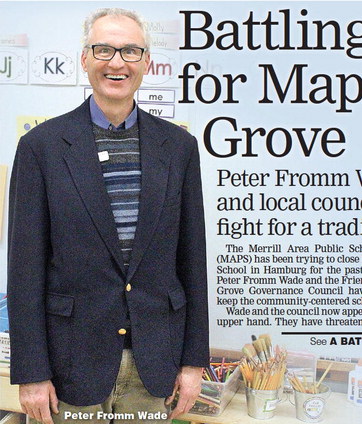 Peter Fromm Wade and local council fight for a tradition
The Merrill Area Public School District (MAPS) has been trying to close Maple Grove School in Hamburg for the past decade, but Peter Fromm Wade and the Friends of Maple Grove Governance Council have battled to keep the community-centered school open. Wade and the council now appear to have an upper hand. They have threatened a lawsuit should MAPS try to shutter the rural kindergarten through fifth-grade charter school. They are currently working to detach Maple Grove School to Athens School District.
Parents understand the council's current strong position.
Fromm Wade at Thursday's school open house said he was pleased no parents of Maple Grove School students asked him whether the school of 84 students would be closing.
This is a marked contrast with last year when parents were in a somber mood because they were worried about the school's future.
Fromm Wade is a grandson of Edward Fromm. Edward and his three other brothers Walter, John and Henry were pioneers in cultivating the first ginseng in the Hamburg area during the early 1900s, which generated money for them to begin the largest silver fox and mink farm in the United States. In 1929, the Fromm brothers received their largest check for selling silver fox furs of just over one million dollars.
Walter and Mabel Fromm wanted to give back to the Hamburg community that helped the Fromm brothers own a successful business. The Walter and Mabel Fromm Schlolarship Fund was established in 1976 through the sale of $500,000 in Fromm Bros. Inc. stock.
Fromm Wade said the Walter and Mabel Fromm Scholarship has already awarded $6.5 million to over 300 past students. These are students who've attended all grades at Maple Grove School and graduated with a minimum 2.0 GPA from Merrill High School. He said there's currently $3.7 million in the scholarship trust, which is payable to college students each semester while they attend an accredited four-year university or twoyear technical college in Wisconsin.
"Maple Grove School is the American dream come true school," Fromm Wade said in the gymnasium during the school open house on Thursday.
Attendees at Maple Grove School's open house were able to sign a petition to detach the school from the MAPS and attach it to the Athens School District.
Under state law, the Maple Grove Governance Council needs to get more than 50 percent of voters in MAPS to sign a petition to detach Maple Grove School to Athens School District.
Should Maple Grove School detach from MAPS and attach to the Athens School District in the future, Fromm Wade said the scholarship fund would then be awarded to Maple Grove School students who graduate from Athens High School.
The Merrill School Board met in closed session during its regular monthly board meeting last Wednesday to discuss strategies and options available to the school board on negotiations with the Maple Grove Governance Council.
Norbert "Nubs" Ashbeck was one of only two of the nine members on the Merrill School Board to vote against closing Maple Grove School a few months ago.
Ashbeck said at the Maple Grove School open house MAPS is predicted to experience a $4 to $5 million-budget shortfall in two years. Voters in MAPS approved a $10 million referendum in 2018 to allow MAPS to exceed school budget revenue limits by $2.5 million each year for four years on a non-recurring basis.
"We've lost 432 students in the last seven years," Ashbeck said. "I am also a member of the Lincoln County Board, and in the last 10 years Lincoln County has lost 12 percent of its population because there are no good paying jobs here. We've made all the cuts we can make in our school district. The school district wanting to close Maple Grove School is just the beginning because there's a chance it could also close one of its city elementary schools in the future."
Hamburg residents want to continue Maple Grove School as a tradition, despite these changes.
Town of Hamburg resident Shawn Henrichs and his wife, Kate, said at the school open house they are the eighth generation in the Henrichs family to reside in the town of Hamburg and their children are the fourth generation in the family to attend Maple Grove School.
Kate thinks Maple Grove students get a good education. She is impressed by how good Maple Grove students are when she joins them on field trips.
"Students at Maple Grove School are very well-mannered children," she said. "The teacher tells them the rules and they listen."