Posted on
Pearl Harbor surivor in Edgar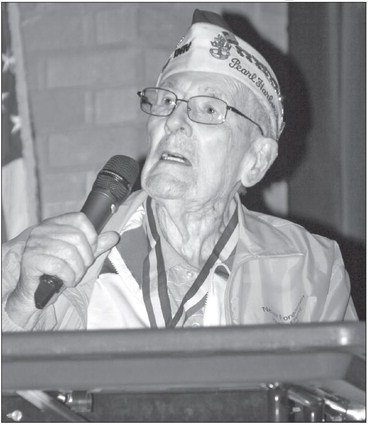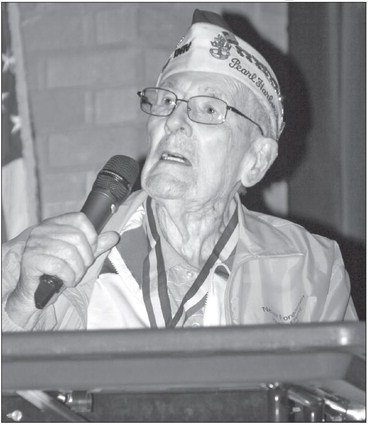 Lehner recounts fateful day in Honolulu Bay, Hawaii
A survivor of the attack on Pearl Harbor spoke to an assembly of Edgar students on Friday.
Willett Lehner, 98, Stevens Point, a crew member of the U.S.S. Ward, was among those who fired upon a Japanese two-man midget submarine while on routine patrol from Barber's Point to Honolulu Bay.
"We fired the first shot of Pearl Harbor at 6:45 a.m. in the morning," he said.
Lehner, a native of St. Paul, said he joined the U.S. Naval Reserve as a 17-year-old and was delighted at being sent by train to San Diego, Calif. The train ran so close and slowly past an orange grove that he was able to pick fruit right off the trees from the train.
"This was real living," said Lehner. "We didn't have to put up with all of that snow and cold."
Lehner's job in the Naval Reserve was to help rehabilitate an old WWI battle ship, the U.S.S. Ward.
"We had to fix some old pumps," he said. "But we got it done."
With the ship fixed, Lehner cruised out to what he thought would be even better duty—service in Hawaii.
"I was really happy," he said. "That was the best duty there was."
All of this service happiness ended on Dec. 7, 1941.
That was the day members of the U.S.S. Ward noticed a periscope sticking up out of the water in Pearl Harbor. Later that evening, the ward's skipper saw the periscope again at 100 yards and he ordered the ship's No. 1 gun to fire. The first shot was a miss. The No. 3 gun was ordered to fire. That was a direct hit.
Lehner said he saw the 75-foot submarine roll over and start sinking. The crew of the U.S.S. Ward dropped depth charges to blow up the sub.
That day, the imperial Japanese air force disabled eight U.S. battleships, sinking four. The United States immediately entered WWII. Lehner said the U.S.S. Ward was later in the war sunk by a Japanese kamikaze pilot. As the war progressed, he fought in nine major battles in the South Pacific. Lehner was sent to a hospital for "battle fatigue" and later discharged. He moved to Stevens Point in 1949.
Lehner said he was inside a submersible that located and took photographs of the destroyed Japanese submarine in 2002 after several other attempts, including one financed by National Geographic, failed to locate the vessel.
Lehner said he didn't want to leave the service, but couldn't continue as a sailor. "We had too much of the battle," he said.
The veteran said he was proud of his service in WWII. "I was there and did my part," he said.